Like all sophisticates, Hamburg doesn't reveal all its charms at once. It's a city whose many pleasures take time to discover. Both ancient and modern, its history continues to be shaped by the sea around it, a port city whose wealth and strategic location have created a city of great beauty, tolerance and a healthy dose of attitude.
Hamburg shares a reserved countenance with its Scandinavian neighbors. Its style is decidedly less flashy than Munich, its counterpart in southern Germany. While showy displays of wealth are expected in the Bavarian capital, Hamburg's old-money demeanor is marked by understatement. Hamburg is less wild than Berlin, Germany's nightlife capital, but don't mistake that for prudishness: The Hamburgers may have less free time on their hands, but the Reeperbahn in the St. Pauli neighborhood is one of Germany's best known red-light districts, and still home to both the pleasures of the flesh and the free-wheeling acceptance that is common among port cities.
Hamburg is an unlikely tourist destination, without the fairytale castles of Germany's south and east, or Berlin's party scene. Its natives are often criticized for being elitist and reserved. But we found the city to be warm and welcoming, easily navigated, filled with cultural, culinary and architectural highlights, and much less encumbered by the usual throng of annoying Euro tourists.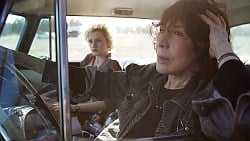 From October 20-25, an expected 20,000 people will descend upon the city for the 26th annual Hamburg International Queer Film Festival for a selection of 130 feature films, documentaries and other experimental projects from around the world. The opening night gala on October 14 will be hosted by Bernadette La Hengst and will feature the German premier of Grandma, starring Lily Tomlin. The closing night reception, on the 25th, will be held at the Metropolis Bar. Check the festival website for the film and event schedule and to purchase tickets. 
Our top picks for maximizing your visit to Hamburg for the festival (or for anytime):

1. Le Méridien Hamburg is our first-choice hotel in town. Perfectly located on the lakeside edge of the gayborhood, Le Méridien offers sophisticated style, stunning views and a gay-friendly welcome. The festival is located in a few different venues around the city, and Le Meridien is central to them all.
2. The 25 Hours Hamburg Number One hotel brand is cut from similar cloth as the trendy U.S.-based Ace Hotels — a design-focused hotel alive with youthful energy and a mod '60s-'70s inspired décor.
3. Cafe Gnosa, for more than 20 years, has been a St. Georg meeting point for the local LGBT community, and while it's best known for its bakery and delicious cakes, it is also a great place for a casual, relaxed meal. Open every day from 10am until midnight or 1am, it's popular at all hours with a diverse and handsome crowd.
4. As for bars, at M&V Gaststätte you'll find cute, stylish guys of all ages come to this St. Georg bar for a cold beer and a good time. It seems like everyone passes through here on a Friday or Saturday night — some on their way to later debauchery, others as their main event.
5. Crazy Horst is for the Germans (and visitors) who love to drink and sing. It's silly fun anytime but terrific during the film festival because it's a short three-minute walk from the B-movie cinema.
For more tips and suggestions for Hamburg download ManAboutWorld's latest issue. Also check out Germany's official tourism site's LGBT travel information.
This weekly travel column is brought to you by ManAboutWorld, an immersive digital gay travel magazine for iOS and Android devices from Ed Salvato, Billy Kolber, Kenny Porpora, and nearly 75 Global Correspondents. For more recommendations from ManAboutWorld's global gay experts, download our App. There are FREE guides and a 10-issue-per-year subscription-based magazine
Images: Top: Currywurst vendor with gay spirit! by W. Staudt; Middle: Lily Tomlin in Grandma courtesy International Queer Film Festival; Bottom: Fleetschlösschen Hamburg by paisteline581