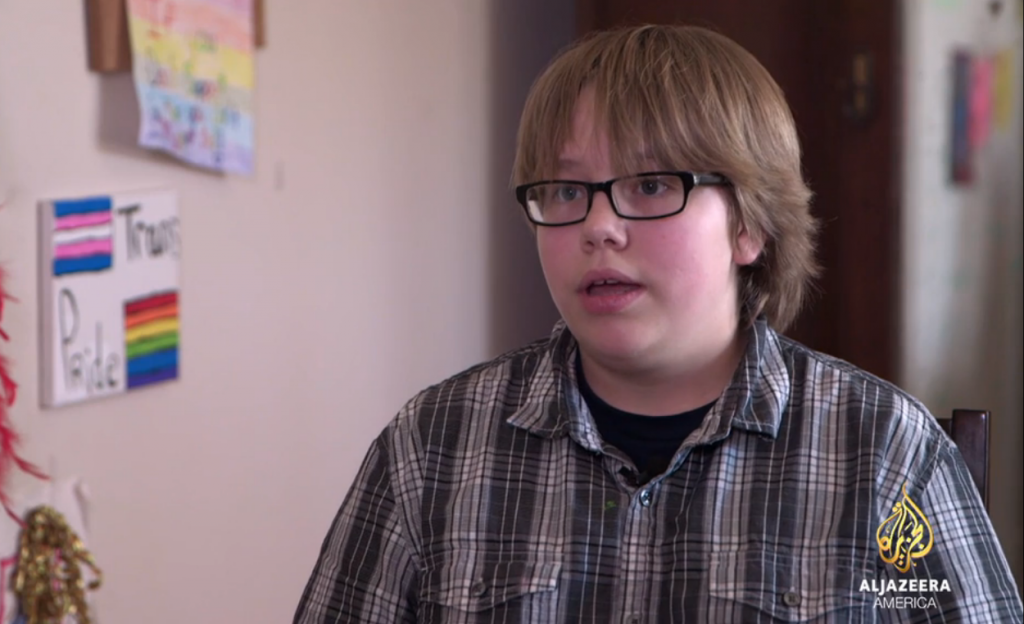 Twelve-year-old Evan Singleton has a message for anyone who questions his transgender status.
Evan, who began living as a boy at 9, spoke with Al-Jazeera America recently for a segment about what it's like being a bullied trans youth in Texas. Al-Jazeera recently reposted a version of the segment, which originally aired in September, in response to Houston voters' decision to repeal an Equal Rights Ordinance based on the debunked transgender bathroom myth.
Al-Jazeera asked Evan (above), who's currently taking hormone blockers, what he would say to anyone who believes he's too young to decide he's trans:
"I'd say, 'Well, you're not the person to tell me who I am,'" Evan responded. "Unless I'm bugging them, unless I'm going, 'Haha, I'm trans,' they have no right to come into my life and tell me what I need to do. That's what my parents are for, and my parents are doing a great job raising me. I do my chores, I clean my room, and I help out. Not to gloat, but I'm a great kid, I'm getting A's and B's in school, and they have no right to come telling us, our family, what to do."
Evan's mom, Mela, said she realized he was trans after they got into an argument about a bicycle his parents got for him, which he said was "too girly" because it had pink flames on it.
"It was like, 'Poof! I get it,'" Mela Singleton told Al-Jazeera, sobbing. "He'd been saying it for five years. … I kept trying to make him not be a boy."
Evan says he was bullied mercilessly in school for being trans, prompting his parents to begin home-schooling him.
"I'd sit alone. I'd eat alone," he said. "I had no one to talk to. It hurt very much. … [My classmates] hurt my feelings … they tried so hard to make me break down and do something and to make me lose control."
Evan is now in a program for trans youth, the only one of its kind in the Southwest, at Children's Medical Center in Dallas.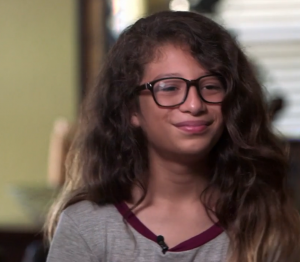 "If I went through puberty, I probably would have been one of those kids who just slice off their breasts. And then, my mom would come in and be like, 'Oh my gosh!' and then I'd probably go to a mental institution. It [would] probably be really awful."
Al-Jazeera also spoke with Roxy Castro (right), a 12-year-old trans girl in the program at Children's Medical Center. Roxy said she avoids drinking water at school because she has to use a separate bathroom on the other side of the building, which leads to questions from other students about why she can't use the girl's room.
Mela Singleton, Evan's mom, addressed the bathroom panic that defeated HERO.
"How do you combat rhetoric?" she said. "How do you combat emotional panic? When my kid walks into a bathroom, I'm not worried they're going to hurt your kid. I'm worried for his safety, period, because that's more likely where the violence will show up."
Watch Al-Jazeera's report below.