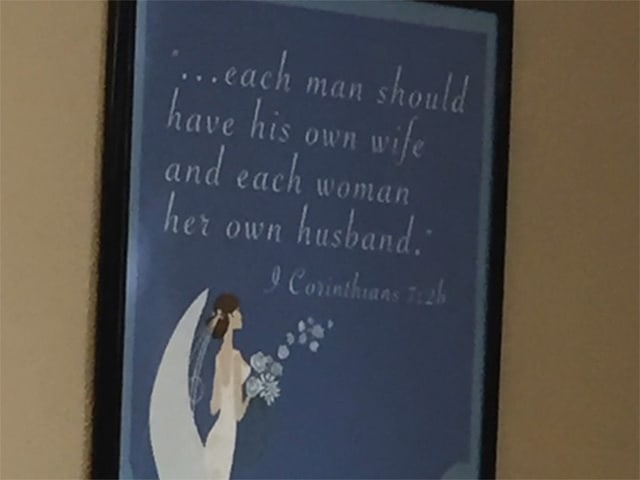 The county clerk in Elbert County, Colorado is coming under fire over a poster he placed in the clerk's office that has a picture of a bride and a groom alongside a Bible passage that refers to marriage as a union between one man and one woman.
The clerk, Dallas Schroeder, placed the poster where couples receive marriage licenses. The poster (above) reads, "…each man should have his own wife and each woman her own husband."
Schroeder says that it's been up for 15 months and he's only received one complaint. However, as a local news station finds out, that's not exactly the case.
Elbert County Clerk Dallas Schroeder would not appear on camera because he has obtained outside legal counsel, but he says the poster has been up for 15 months without any complaints.
However, Denver7 has learned that several people have recently complained directly to Schroeder: Lark Fogel, Tony Carrado and Jim Duvall, and a group of people opposed to the poster met on Monday night to discuss it.
"I don't know what the intentions were, but to me it's a mean spirited message we give to all of our citizens that come in for licenses," said Jeff Lehman, a longtime Elizabeth resident who feels the message is dismissive of his friends and family.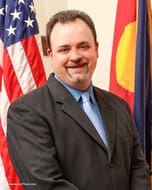 Schroeder claims the poster is a mere "celebration of marriage" and notes that his office has complied with the Supreme Court's ruling on gay marriage and issued two same-sex marriage licenses since Obergefell.
However, an email from Schroeder sent to several Colorado court clerks suggests the poster was created in direct response to same-sex marriage. It reads: "My thought process is that they have to see the poster. And if they choose to violate God's written Word, then that is on their head."
A local lesbian couple, Lark Fogel and her wife Janine Gerovski, were none too pleased with the poster:
"Everybody who comes in to get a marriage license is entitled to equal protection. And that's not what they're getting in Elbert County. They're getting a church service — it's not right," said Fogel, who is also an attorney. "We don't need another lawsuit, either. He is clearly in the wrong."  
Activist organizations The Freedom From Religion and Americans United for Separation of Church and State have called on Schroeder to take down the poster.
Watch a report on the poster, below: