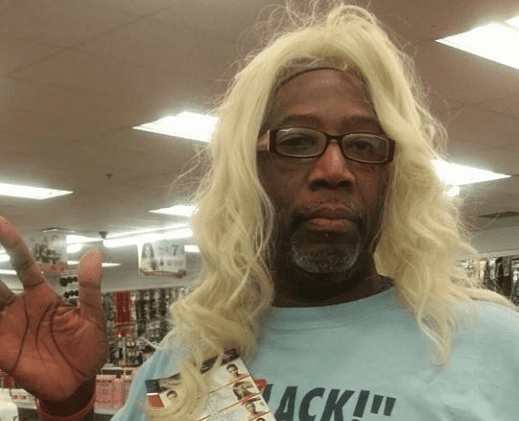 An anti-gay Jacksonville pastor was set to dress in drag to protest the city's Human Rights Ordinance on Monday, but apparently dropped his plan at the last minute.
Pastor Kenneth Adkins posted photos of himself wearing wigs (above) on his Facebook page, and said he would protest at a Duval County Democratic Party event where out lesbian Houston Mayor Annise Parker was the featured speaker.
"Tonight at 6pm at the Duval Democratic Banquet, Miss Jane in her very short Red Dress will deliver a message to the Homosexuals that have taken over the Duval Democratic Party," Adkins wrote. "I am gonna 'pee' next to your women in the women's bathroom and let's see how y'all feel."
Adkins also posted the flier at right, and encouraged black Democrats to boycott the event, saying the party had replaced "the black agenda" with "the homosexual agenda." The Jacksonville City Council is expected to consider the Human Rights Ordinance early next year.
"Duval Black Democrats have very quiet about this issue because the Homosexuals have fooled them into thinking that Black Lives Matter. Trust me, they ain't Marching for Black folks," Adkins wrote. "I Got a Message for the Homosexuals: You Can Still Go To Hell!"
According to a recent profile in The Florida Times-Union, Adkins lives in St. Simon's Island, Georgia — not Jacksonville — and pastors a church in Brunswick, Georgia.
Mayor Parker responded to Adkins canceled protest.
"Anyone who would do that has no concept at all of what gender identity truly is and how hateful and hurtful that is," Parker told WFOX-TV.
Parker spoke to local Democrats about the defeat of Houston's Equal Rights Ordinance last month, according to WJCT:
Parker says the main argument used to take LGBT protections away in Houston, was the argument that sexual predators will use it to get into women's bathrooms.
"It wasn't because we didn't have a good message. It wasn't because we didn't have a good ordinance. It wasn't because we didn't have a strong campaign," Parker said. "It was because the other side planted a fear and just planted that fear over and over again. A completely baseless fear and they wrote a lie."
Parker says her advice to Jacksonville is to take those counterarguments seriously.
"Don't roll your eyes, don't laugh," she said. "Address them head on."
Watch WFOX-TV's report below.