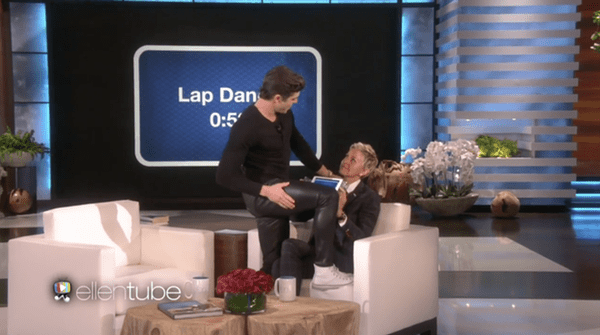 Zac Efron visited Ellen on Wednesday and played a game of "Heads Up" that might just make you perk your head up.
Efron appeared on the show to promote his upcoming film Dirty Grandpa. Notably, he showed up wearing a pair of black leather pants that were put to good use as the show progressed.
Ellen, who created the "Heads Up" app, chose the "bad behavior" category for the pair's match, and Efron was then tasked with trying to get Ellen to guess "lap dance", "twerk", "making out", and "skinny dipping." Methinks the options may have been rigged?
While Efron was more than happy to grind up on Ellen (see "lap dance"), he was more reticent about twerking. Which he regretted moments later. "When anyone tells you to twerk just do it," Efron said.
Efron also (sadly) did not oblige fans' screaming for him to strip down when the "skinny dipping" card came up.
Watch Efron work it in leather, below.