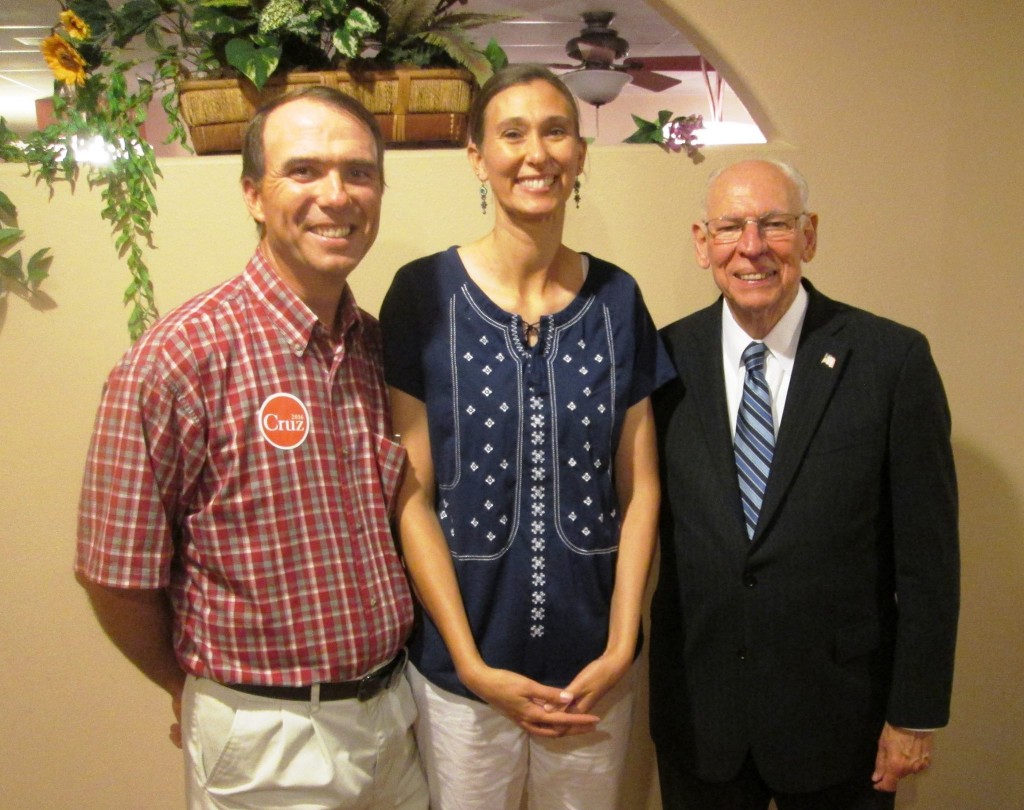 In what appears to be a blatant conflict of interests, Greg Heartsill, the same anti-gay Iowa lawmaker who led a hateful legislative crusade against an LGBT youth conference, has been assigned to investigate allegations that the event included inappropriate sexual content last year.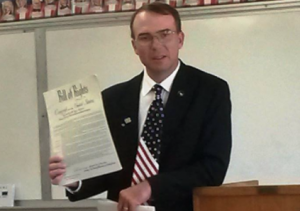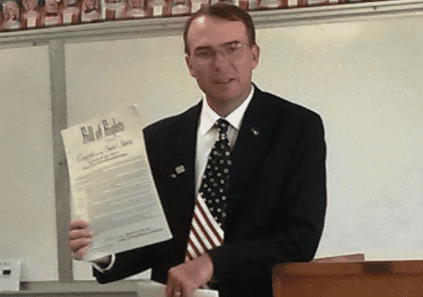 GOP state Rep. Bobby Kaufmann, chairman of the House Government Oversight Committee, last week appointed two members of his panel, one Democrat and one Republican, to investigate the annual Governor's Conference on LGBTQ Youth. The Republican assigned by Kaufmann to investigate the conference is Rep. Greg Heartsill (shown above with his wife and Sen. Ted Cruz's father, Rafael, and at right teaching schoolchildren about the Bill of Rights).
Last year, Heartsill introduced an amendment that would have required students to obtain parental consent before attending the conference. During a floor debate on the amendment, Heartsill acknowledged that he didn't even know what LGBTQ stood for. He also later wrote a letter to school superintendents demanding information about how many students from their districts attended the conference, and whether the districts covered any of the costs.
Organized by Iowa Safe Schools, a nonprofit advocacy group, the educational conference is the largest of its kind in the nation, drawing more than 1,000 students, parents and teachers from across the Midwest to address issues like bullying, homelessness, suicide and sexual health among LGBT youth.
Nate Monson, executive director of Iowa Safe Schools, said the other lawmaker appointed by Kaufmann to investigate the conference, Democratic Rep. Phyllis Thede, is a supporter of safe schools. However, Monson told The New Civil Rights Movement he believes Heartsill will attempt to use the investigation to leverage support for a similar amendment this year.
"He's going to use this spot to bully and harass Iowa Safe Schools to try and get that passed in addition to stopping kids from coming this year by distorting the event," Monson said. "Most of our attendees are rural kids who come with teachers and their parents. Every year these youth get to meet a major figure in our community. … Homeless youth from one of our shelters come annually and for those kids rejected by their families to know everything is OK, that's why we do this. Heartsill has no shame in wanting to hurt our most vulnerable youth."
In his letter to school superintendents last year, Heartsill wrote: "Recent news and eyewitness reports have indicated that certain Iowa students were subjected to sexually graphic and obscene presentations during this year's Governor's LGBTQ Youth Conference that was held at Prairie Meadows in Altoona on Friday, April 3, 2015. It has also been reported that the closing speaker made frequent use of profanity during his presentation and even suggested that students vandalize the property of those who might disagree with their views."
Heartsill, who's suggested that conference organizers could face criminal charges, based his letter on a report from the Family Leader, the anti-LGBT hate group led by Bob Vander Plaats, which sent an undercover operative to the conference last year. Both students and educators who participated in the conference have denied the allegations in the undercover operative's report.
This year's conference is set for April 29 in Des Moines. To support the conference, which is funded entirely by donations, go here.