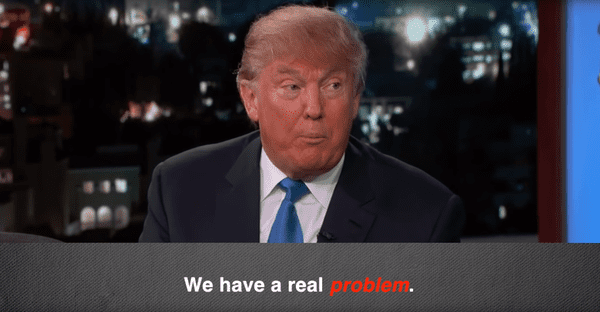 YouTuber Evan Puschak, who goes by the handle "The Nerd Writer", has posted a new video in which he examines Donald Trump's unique linguistic style to see what it may tell us about his meteoric rise in the Republican primary.
Puschak breaks down an answer Trump recently gave to late night host Jimmy Kimmel about his call to ban all Muslims from entering the US. A careful examination of Trump's answer shows that Trump repeats a lot (like a good salesman), uses his favorite words over and over ("tremendous", anyone?), and favors simple language and simple sentence construction to convey his message. Puschak says, "Rarely does [Trump] use complex sentences or independent clauses. He also favors the second person a lot of the time, addressing listeners directly with commands…or implicating us in what he's saying as if we've already agreed."
Most importantly, according to Puschak, Trump has a penchant for "ending his sentences with strong punchy words", going out of his way to begin "a sentence awkwardly so he can end strong."
Puschak sums it up,
"Donald Trump knows when to sound incredulous or forceful. He has good comedic instinct. You could even call him witty. But you can't call him smart or well informed. The best salesman can sell you a TV without knowing anything about it. Because the TV isn't what matters. What matters is you. And if you are an American citizen who for years has listened to politicians sound sophisticated while accomplishing nothing you might just be primed for something that is everything they are not. But the next time you feel like Donald Trump has a point, do yourself a favor and look at his words."
Dig into how Trump says what he says, below.