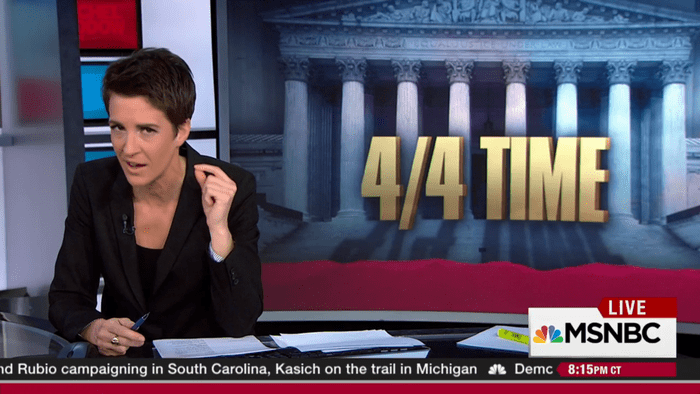 Rachel Maddow on Monday night delved into the chaos that has emerged following the death of Supreme Court Justice Antonin Scalia.
Maddow explained that while reports saying we are in the midst of a constitutional crisis are premature, such an assessment would be accurate should Senate Majority Leader Mitch McConnell make good on his threats to block any nominee President Obama appoints to fill Scalia's spot on the bench.
Maddow also explained one big reason why leaving a spot on the Supreme Court vacant in an election year is a bad idea: what if the Supreme Court has to, as it did in 2000, decide who wins the presidential election? A tie in the electoral college is not unforeseeable this year and, as happened in 2000, a closely contested race in any number of states could lead to a recount, which could lead to legal challenges, which could lead to the Supreme Court having to in effect decide the winner and the loser of the election. But what if there were a 4-4 split since, if Republicans got their way, there would be only 8 justices on the highest court in the land? Then what?
Said Maddow,
"There are now eight justices on the United States Supreme Court, which requires nine justices, and we suddenly — in the midst of what is already a chaotic political season — have bumbled into what appears to be not yet a constitutional crisis, but right now a giant stress test for our democracy. We haven't had a Supreme Court seat held open for a year in this country since the US Civil War. And the reason we had one held over then was because of the US Civil War. What's the excuse now?"
Of Republicans' vowed obstructionism, Maddow adds, "That is a position of almost unprecedented radicalism in American history and in American politics."
Watch Maddow's examination of the constitutional crisis we could be headed for if Republicans get their way, below.