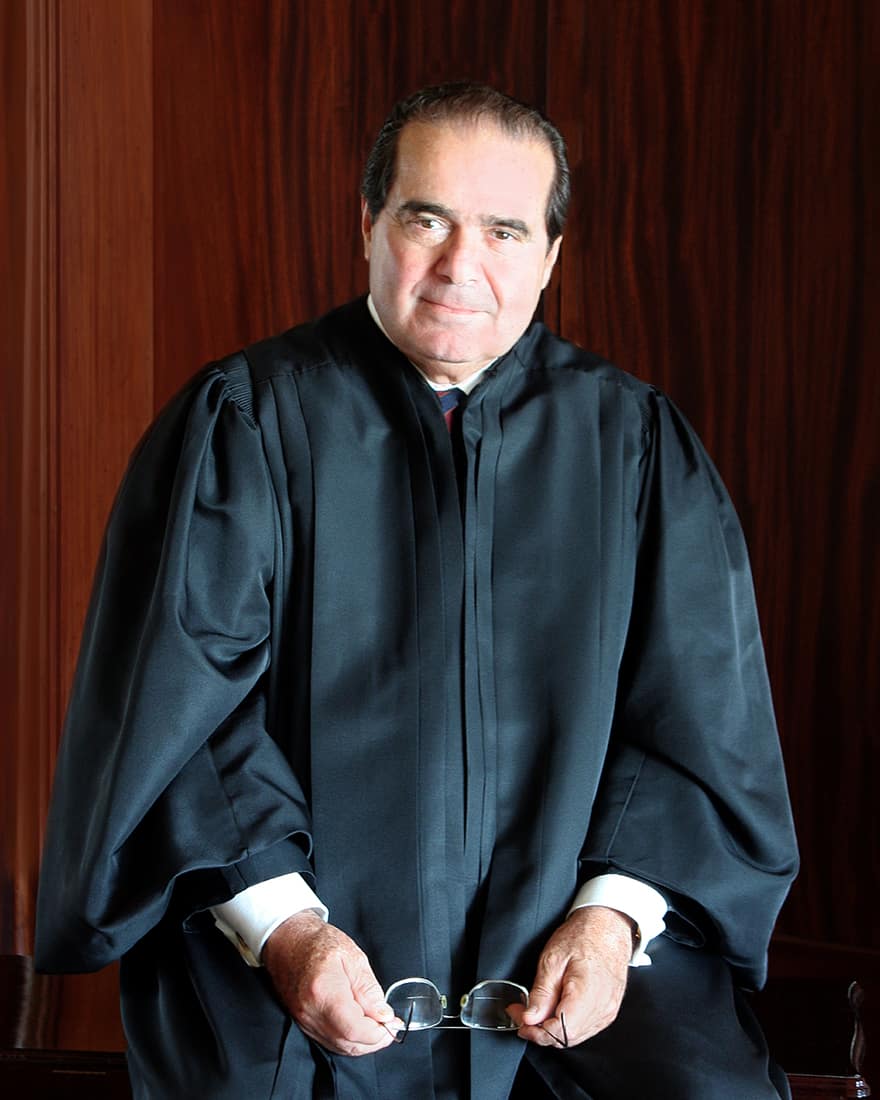 Antonin Scalia, the Supreme Court Justice who was known for his stalwart opposition to gay rights and gay marriage, has been found dead while on a hunting trip in Marfa, Texas. Scalia was 79.
Scalia, 79, was a guest at the Cibolo Creek Ranch, a resort in the Big Bend region south of Marfa. MySanAntonio.com said he died of apparent natural causes.
Scalia arrived at the ranch on Friday and attended a private party with about 40 people, the website of the San Antonio Express News said. When he did not appear for breakfast, a person associated with the ranch went to his room and found a body.
The U.S. Marshal Service, the Presidio County sheriff and the FBI were involved in the investigation, according to the report.
Officials with the law enforcement agencies declined to comment.
A woman who answered the phone at the ranch told the Post she was unaware of the justice's death, and no manager was available to discuss the matter.
A federal official who asked not to be named told the San Antonio Express News paper there was no evidence of foul play and it appeared that Scalia died of natural causes.
A gray Cadillac hearse pulled into the ranch last Saturday afternoon. The hearse came from Alpine Memorial Funeral Home.
Scalia was appointed by President Reagan to the Supreme Court in 1986. Despite staunch ideological differences, he maintained a close friendship with Justice Ruth Bader Ginsburg.
Many are already pointing out that President Obama will have a hard time appointing a replacement for Scalia given the current political climate.
Ted Cruz and a spokesperson for Arizona Senator Mike Lee were among those who immediately insisted that the next president should be the one to appoint Scalia's successor following the breaking news of his death.
President Obama has 10 months remaining in his term.
Justice Scalia was an American hero. We owe it to him, & the Nation, for the Senate to ensure that the next President names his replacement.

— Ted Cruz (@tedcruz) February 13, 2016
Republican senate staffer already promising GOP will block any Obama-nominated successor to Scalia https://t.co/XcitmCyVBc

— igorvolsky (@igorvolsky) February 13, 2016
Spokesman for Sen. Mike Lee, who sits on Judiciary Committee @conncarroll pic.twitter.com/qMZ3t3KZr1

— Shane Goldmacher (@ShaneGoldmacher) February 13, 2016
Pete Williams: "Will Senate even consider a nominee in an election year…I'd be surprised if a vacancy can be filled by next term in Oct."

— Luke Russert (@LukeRussert) February 13, 2016
Supreme Court analyst Jeffrey Toobin has already speculated that the Obama administration may appoint Judge Sri Srinivasan to succeed Scalia.
Keep your eye on DC Circuit Judge SRI SRINIVASAN as #scalia successor on #SCOTUS

— Jeffrey Toobin (@JeffreyToobin) February 13, 2016
My piece on Judge Sri Srinivasan, of DC Circuit, who may be nominated as #scotus successor to Justice Scalia.

— Jeffrey Toobin (@JeffreyToobin) February 13, 2016
I left out the Srinivasan link. Here it is. https://t.co/KzoK6dwCY0

— Jeffrey Toobin (@JeffreyToobin) February 13, 2016
Supreme Court Justice John Roberts has released a statement in response to Scalia's passing.
SCOTUS Chief Justice Roberts confirms the death of Justice Antonin Scalia. pic.twitter.com/zSuFf3v2v2

— Joshua Hoyos (@JoshuaHoyos) February 13, 2016
Senate Majority Leader Mitch McConnell (R), Senator Minority Leader Harry Reid (D), Senator Patrick Leahy (D), and Bernie Sanders have also responded to the news.
McConnell: this vacancy should not be filled until we have a new President. Leahy: no one shld use this to stop POTUS from performing duty

— Andrea Mitchell (@mitchellreports) February 13, 2016
https://twitter.com/gdebenedetti/status/698648126685634563
Justice Scalia was a brilliant man. We had many differences, but he was a dedicated public servant.

— Senator Harry Reid (@SenatorReid) February 13, 2016
The President can and should send the Senate a nominee right away. The Senate has a responsibility to fill vacancies as soon as possible.

— Senator Harry Reid (@SenatorReid) February 13, 2016
Would be unprecedented in recent history for SCOTUS to go year with vacancy. And shameful abdication of our constitutional responsibility.

— Senator Harry Reid (@SenatorReid) February 13, 2016