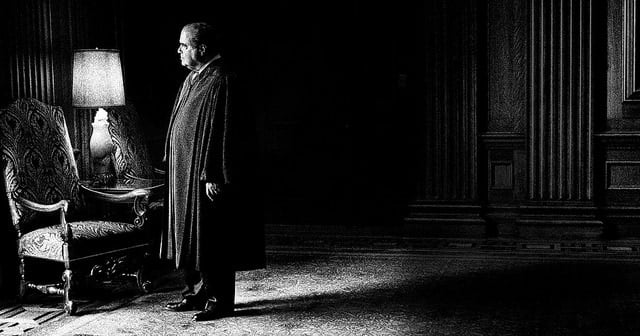 Supreme Court Justice Antonin Scalia, leading conservative jurist, has died. He was the brilliant dean of conservative legal intellectuals and the colorful and acerbic core of the Supreme Court's conservative wing. He adored, and was adored by, his ideological and temperamental opposite, Justice Ruth Bader Ginsburg, a friendship that gives us hope for bipartisan comity. He was an originalist, except when he wasn't. He did not believe that the Constitution protected any minorities, let alone gays. He compared the members of our community to pedophiles and racists. He opposed marriage equality. He issued several important decisions that protected personal privacy and updated the Fourth Amendment's guarantee against unreasonable search and seizure. He is survived by his wife, 9 children, and 28 grandchildren.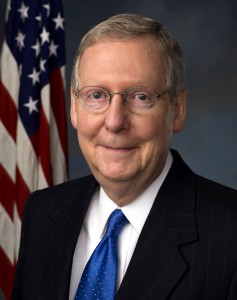 Justice Scalia's death creates a new wrinkle in the highly partisan atmosphere of a presidential election. Immediately after the death was reported, Republican Senate Majority Leader Mitch McConnell stated, in no uncertain terms, that President Obama should not nominate anyone to replace him and even if he did, the Republican-controlled Senate wouldn't confirm that nominee. The President defied that shirking of the Senate's Constitutional duty, promising to nominate a qualified replacement "in due time." Republican candidates for president are falling over themselves to praise Justice Scalia, promising to nominate someone who thinks like Scalia, and hoping they will be the ones to do it. Hillary Clinton and Bernie Sanders, paying their respects, are calling for President Obama to nominate someone immediately.
What happens now? Can the Republicans stall for more than a year, leaving the Court with only 8 members? Who will President Obama nominate? What happens to the cases already on the Supreme Court docket?
Senator McConnell's attempt to stave off any nomination to replace Justice Scalia is posturing. His strategy is obvious: There is a chance a Republican wins the White House and could have a Republican Senate by his side. This would allow a conservative to appoint a young conservative replacement who could issue conservative opinions for another 40 years, keeping the Supreme Court leaning right.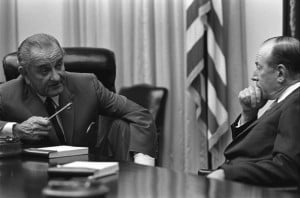 He (sort of) has some precedent. In 1968, Chief Justice Earl Warren, the leader of the most progressive Supreme Court in history, announced his retirement. The year was also an election year, and a particularly divisive one: the Vietnam War split the Democratic Party, President Lyndon Johnson wasn't running, and Richard Nixon was making the Supreme Court an election year issue. President Johnson nominated his friend and Warren's liberal ally, Associate Justice Abe Fortas (above far right), to replace Warren as Chief Justice. He also nominated another friend, Homer Thornberry, to replace Fortas.
Republicans refused to move the Fortas and Thornberry nominations. Fortas faced ethical questions surrounding payment for several speeches, and the Republicans had a strong feeling they were going to win in November. And so they waited. After Nixon assumed the presidency in January 1969, he nominated Warren Berger, and the Court has tilted right ever since.
The situation with replacing Scalia is a little different. Warren resigned in June, 1968, just four months before the 1968 elections. We are now about 10 months from the 2016 election. Although the Democratic nominee in 1968, Johnson's Vice President and liberal hero, Hubert H. Humphrey of Minnesota, actually came close to Nixon's popular vote count, losing by only 0.7% points, the outcome of that election seemed more clear at the time than the outcome of the 2016 election seems today. Plus, it is not true that Supreme Court nominees do not (or should not) get processed in election years. Justice Anthony Kennedy was nominated and approved in 1988, Ronald Reagan's last year in office and during an election between George H. W. Bush and Michael Dukakis. There are several other examples, as well.
Therefore, the President should absolutely nominate a replacement, and he or she should be highly qualified, like all of the President's judicial nominees. The nomination would call the Republicans' bluff and let the Democrats argue that the Republican Congress is once again sitting on its hands. What's more, a nomination would clarify the issue for Democrats in an election year, a year that leads into a Supreme Court term that will feature decisions on core Democratic issues: worker rights, the environment, immigration, a woman's right to choose, and affirmative action, to name only a few.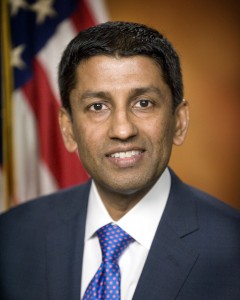 President Obama has several great options: Sri Srinivasan (right) or Patricia Millett of the D.C. Circuit Court of Appeals; Kamala Harris, the California Attorney General and current candidate for Senate; Deval Patrick, the former Governor of Massachusetts; or Amy Klobuchar or Sheldon Whitehouse, United States Senators from Minnesota and Rhode Island, respectively, both of whom were respected lawyers before their election. As the President's "short list" of potential nominees comes into focus, expect profiles on Towleroad.
Even if the President doesn't nominate a new justice, or if the Republican Senate declines to confirm anyone, even the most qualified candidate, cases already on the docket could proceed as planned. The Court does not need to have 9 members to function. History buffs will recall that President Franklin Roosevelt threatened to expand the Court to 15 members if the Court didn't start voting his way. And the Court has, at various times throughout history, operated with fewer than 9 members. Cases will just be heard by 8 (or fewer) justices.
This could change the outcome of many cases. As we know, Justice Scalia, along with Chief Justice Roberts and Justices Thomas and Alito, was one of 4 hard core conservative votes on the Court. Justice Kennedy often sided with the conservatives on many issues, with LGBT equality being the one notable exception. Scalia's passing leaves 4(ish) conservatives and 4 liberals.
Decisions that would have come down as 5-4 for the conservatives, would now be 4-4. Evenly divided decisions are non-precedential, meaning they have no effect other than on the particular case they address. They are also generally issued without authors: they are per curiam, normally terse, and uphold the lower court's decision. That could tilt the next Court term to the left. A case about the California's teachers' union's right to charge public school employees fees to cover the costs of the collective bargaining it did on their behalf was headed for a 5-4 decision against the union. It would have allowed teachers to opt out, and it would have weakened unions. The lower court sided with the union. A 4-4 decision without Justice Scalia would uphold that decision.
Not all decisions would tilt left, though. The case challenging the President's executive action on immigration came up to the Supreme Court from a Fifth Circuit decision that struck down the President's action as unconstitutional. A 4-4 decision would uphold that lower court decision and cripple the President's plan. And the Court's affirmative action decision was already handicapped for the conservatives because Justice Elena Kagan has recused herself. A decision that could have been 5-3 would now just come down as 4-3. Stayed tuned to Towleroad for further analyses of these cases as they come up.
Suffice it to say, the President should nominate a qualified replacement for Justice Scalia. Article II, Section 2, Clause 2 states that it is his Constitutional prerogative. And it is the Constitutional responsibility of the Senate to provide "advice and consent," not to throw a hissy fit until it gets the President it wants.
[top image licensed for public use via Flickr]