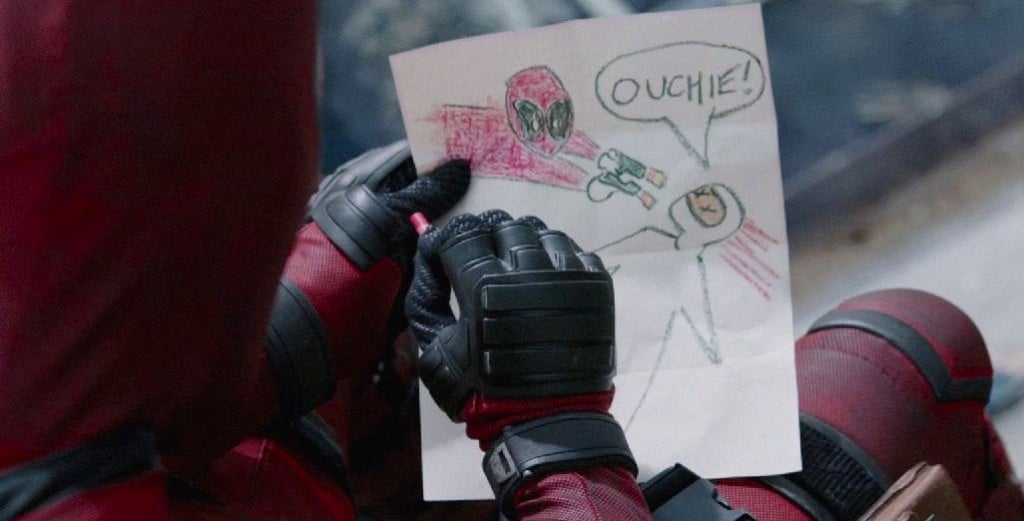 Despite revelling in the fantastic, comic books have always had a difficult relationship with anything outside of the mainstream, especially in regards to heteronormativity. Though the occasional superhero comes out today, Straight/White/Male remains the "default" setting for comic book characters. That's especially true when it comes to superhero movies. Even the X-Men, a team that walked and talked diversity long before it was a widely discussed topic and who often placed women at the front and center of storylines, have been reduced to a mostly straight white male story onscreen albeit one with homosexual metaphors.
Enter Deadpool. He fits comfortably in the X-verse, being a mutant, but also by selling the troubled 'otherness' that is the X-Men's chief inclusive draw for moody adolescents and beyond. Wade Wilson's (Ryan Reynolds) superpowers are unlocked through a sadistic experiment to rid himself of cancer. The experiment leaves him badly disfigured but incapable of being killed. He becomes Deadpool. The character has been described as "omnisexual" by the writer of his comic and the media has consistently referred to him as "pansexual". But is he either of those things, or just a typical straight guy who loves a good dick joke?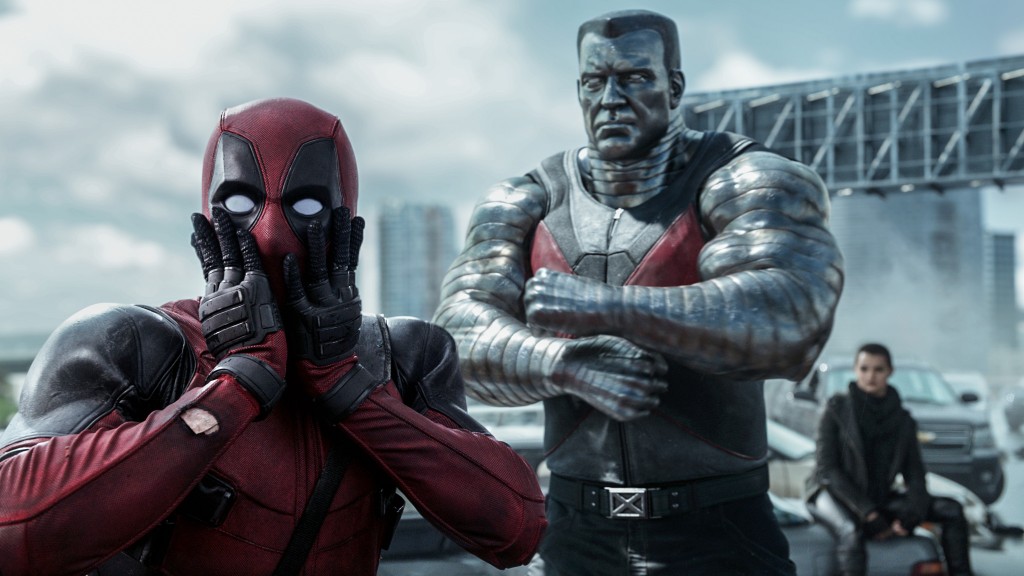 The film version of Deadpool was a colossal hit this holiday weekend, shattering the R-rated February box office record previously held by 50 Shades of Grey. That's a curious concidence since both movies claim to be pushing sexual boundaries but are fairly tame once they get to the bedroom.
Deadpool attempts to separate itself from the ever more crowded superpowered franchise world by way of über violence, foul-mouthed humor, and self awareness. In this it (mostly) succeeds. The violence is often gross but consistently a punchline, as in a moment when our antihero cuts off his own hand to escape the X-Men's metal man Colossus; His abandoned hand, then shown in closeup, is flipping Colossus off. (Since Deadpool can't be killed his severed hand will grow back though it will go through a gross baby-hand stage) The constant breaking of the fourth wall and the jokes about superhero movies become exhausting after awhile but are a nice change of pace from the typical self-importance of this genre. Deadpool's storytelling gimmicks and crass humor nearly disguise that it's totally basic. At heart it's just another origin story of a super-powered man out for revenge and the girl he lost but still pines for.
The new hit also tries to carve out its own niche through bold sexuality. In this it is only successful because superhero movies are never sexually charged (At least not intentionally — the forthcoming Batman vs. Superman: Dawn of Justice is already delighting the internet with its unintentional homoeroticism.) Consider Deadpool's teaser posters, one literalizing Hollywood's favorite guns as phallic objects symbolism with a crude sex-joke.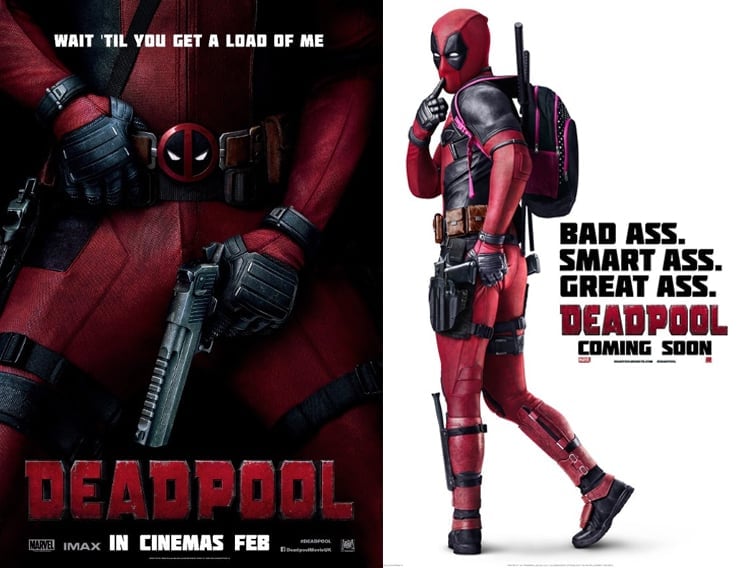 The other invites you to gawk at Ryan Reynold's ass. No RSVP's necessary since everyone is coming. The movie is full of dick jokes, rape jokes, masturbation jokes, and lewd references to other male superheroes. Some of them are actually funny. As juvenile as it is I'll admit I LOL'ed when Deadpool swung his arm behind him during one fight and grabbed Colossus's crotch on accident. Comic beat of silence. "Dad?"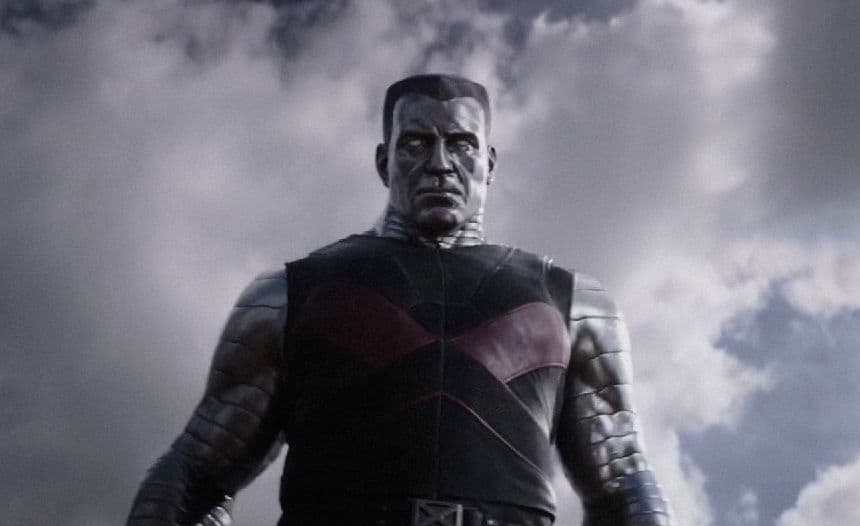 But the sex talk is just that, talk. I'm not the first to ask why the character is defined as pansexual when his sex life is solely heterosexual. Deadpool isn't remotely a pansexual or omnisexual character. He isn't even halfway there via bisexuality. He's just a guy who likes joking about sex and masturbating.
Consider the actual sex scenes in the movie. After Deadpool meets his stripper girlfriend (heteronormative fantasy ding-ding-ding) who is played by gorgeous Morena Baccarin (Firefly, Homeland) there's a sex montage of their enthusiastic rutting over various holidays to show how deeply they're falling in love. It peaks with a funny bit where Ryan Reynold's gorgeous mug pops up from her crotch wearing a set of fake vampire teeth and wishes her a Happy Halloween. A moment later, Reynolds is on all fours. It's implied but not shown that she's wearing a strap on. Cut to: a closeup of his face looking terrified / pained followed by all of Reynold's neck veins tensing up and a "no… no… NO!!!" This moment brought the house down in the theater where I saw it, huge peels of laughter all around. It wasn't even uncomfortable laughter for this is standard boy/girl sex with a 5-10 second foray into role play in which the man rejects the 'kinky' catcher experiment and goes back to pitching. His ass is exit only. (But that's not quite right: he does take a bullet between his cheeks in the movie. He doesn't say "no…no… NO!!!" but he does joke about it.)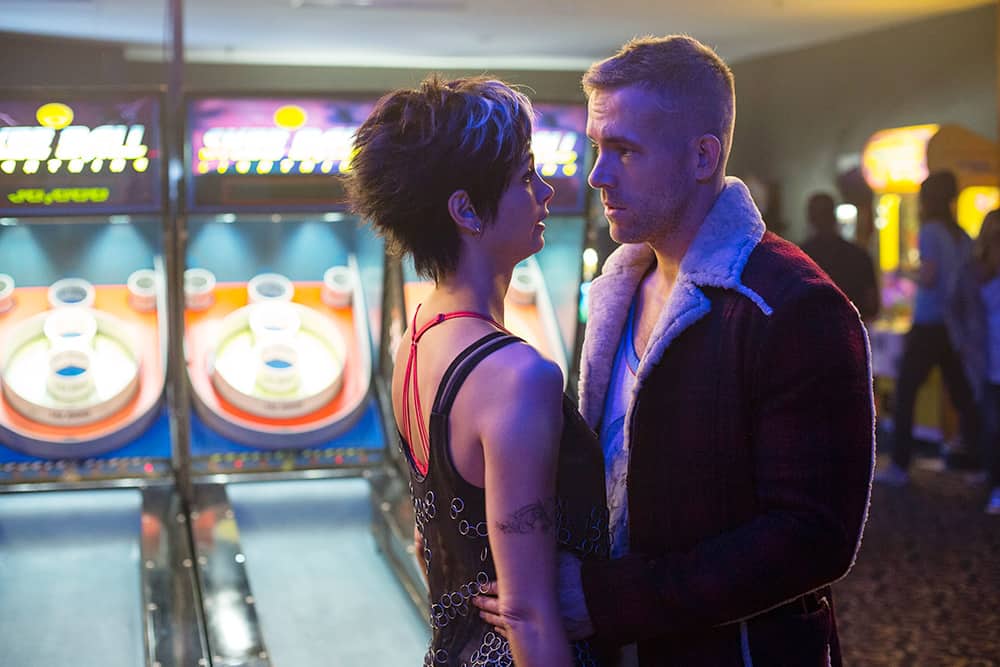 For all the false advertising of the character, it's hard to dislike Ryan Reynolds in the role. He really goes for it, even game for full frontal nudity, albeit in a nonsexual situation in which his body is covered in prosthetic burns and scars. Um… thanks?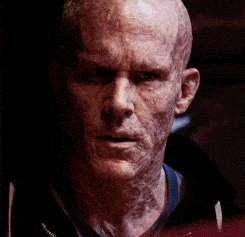 Ryan Reynolds has gone on record that he'd like the character to have a boyfriend in the sequel. But this is mere gay-baiting as the film pushes its true love relationship hard and [SPOILER ALERT] Wade's girlfriend survives the movie and still loves him despite how disfigured he is now [SPOILER ALERT]. Why the gay baiting? Reynolds isn't dumb. It's a win win for him since the studio would never allow it. He knows why he's still famous despite a lack of signature roles, critical awards, or box office ROI. You could argue that he's more fluid sexually than the character, eager and willing to sell his sex appeal to any gender or orientation.
Despite the media angle of an 'omni' or 'pansexual' character, something that would indeed be very provocative in a superhero movie (hell, any mainstream movie) is if in the end, Deadpool's sexuality isn't any different than a popular jock pretending to be gay to crack up his friends. The only difference is that he's not doing it with a lisp or with cruel intent. It's just that he's the class clown and can't help himself. The lack of homophobic malice is surely progress but it's of the baby-step variety, as tiny and new as Deadpool's regenerating hand that he's eager to jerk off with…
It's going to feel huge in this hand.