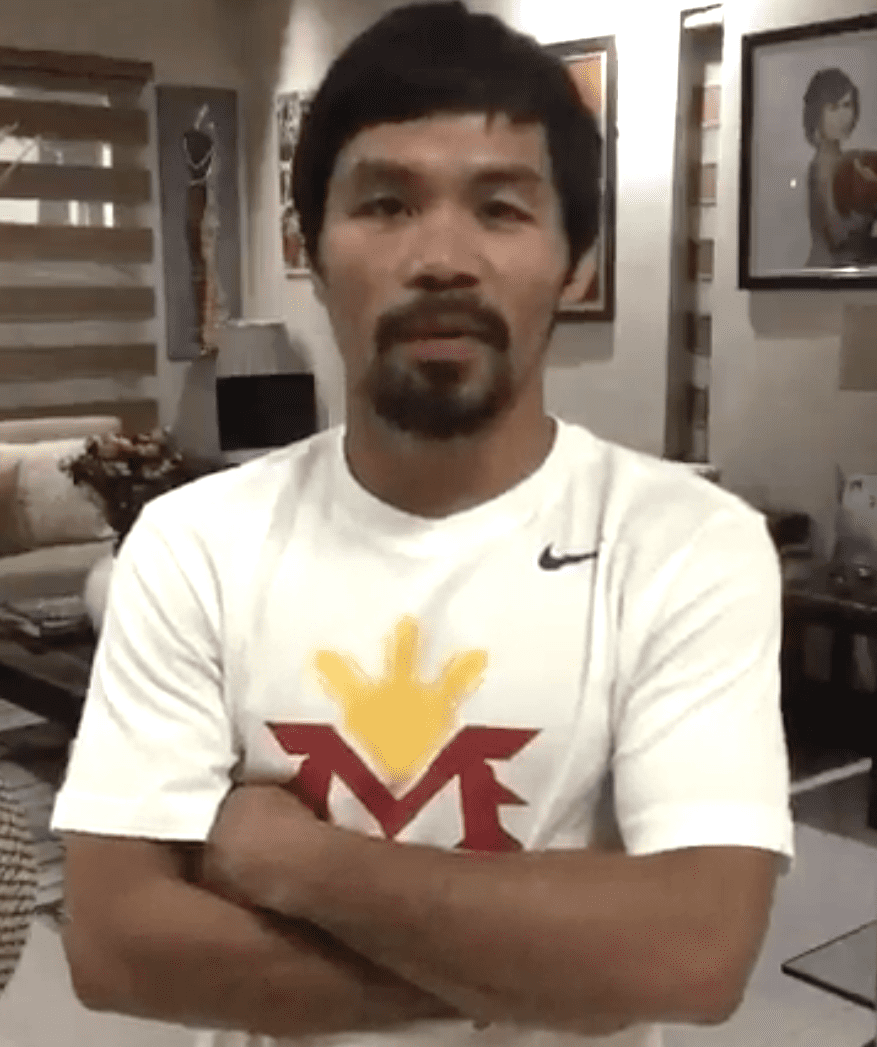 Manny Pacquiao, the famed boxer turned politician, has apologized for remarks he made saying that gay people are worse than animals.
Pacquiao, a current member of Philippines' House of Representatives, made the disparaging comments about homosexuality in a TV interview. Pacquiao is currently running for one of 12 seats in the country's senate.
Said Pacquiao, "It's common sense. Do you see animals mating with the same sex? Animals are better because they can distinguish male from female." He added, "If men mate with men and women mate with women they are worse than animals."
After backlash poured in, Pacquiao apologized on Twitter.
Nearing the end of a glorious decades-long boxing career, the 37-year-old is reinventing himself as a conservative Bible-bearing politician before the country's May elections, when he is running for a senate seat.
"I'm sorry for comparing homosexuals to animals. Please forgive me for those I've hurt," Pacquiao said in a video post on Instagram, his arms crossed.
Pacquiao said he was not condemning homosexuals but was standing by his conservative Christian faith.
"I love you all with the love of the Lord. I am praying for you." […]
The country's most popular gay comedian, Vice Ganda, posted #PrayForMannyPacquiao to his 6.7 million followers on Twitter as he tore into the boxer.
"Some people think they can judge people, like God, just because they've attended a prayer meeting and read the Bible," he said.
"The Senate needs experts on politics and law, not blind prophets," Vice Ganda added.
A recent survey suggests that Pacquiao would win the senate seat he's vying for if the election were held today.
Pacquiao has a history of making anti-gay remarks. In 2012 he condemned President Obama for embracing same-sex marriage, quoting the book of Leviticus which says that men who lie with other men "must be put to death."
Pacquiao then went on to insist that he loves gays:
"I'm not against the gay people," Pacquiao said. "I'm not condemning them. … I have a cousin (who is) gay. I have relatives (who are) gay. I have a lot of friends (who are) gay, so I'm not condemning gays. What I said is I'm not in favor of same-sex marriage. That's the one thing I said to the guy.
"I told (the reporter) I'm against same-sex marriage," Pacquiao added. "He said, 'Why?' I said, 'It's the law of God.' That's all I said."
Gay marriage is currently illegal in the Philippines.
Watch Pacquiao's apology, below.
https://twitter.com/mannypacquiao/status/699549902825590785?ref_src=twsrc%5Etfw