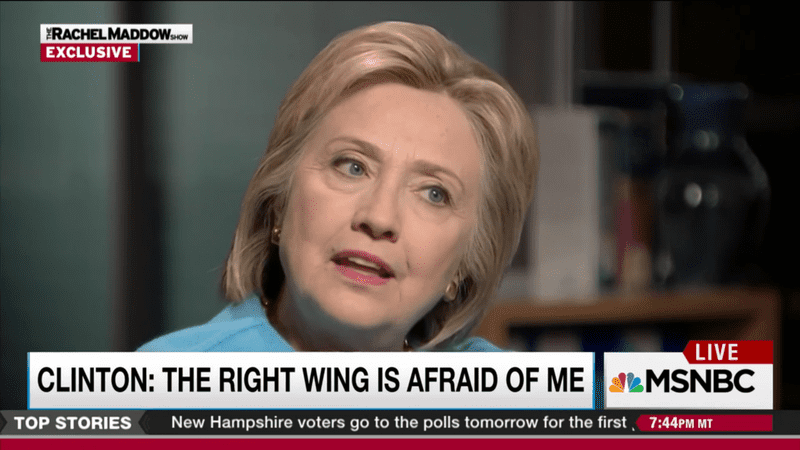 Hillary Clinton told Rachel Maddow on Monday night that the reason she has been the constant target of Republican attacks since she hit the national stage in 1992 is simple: "Because they're afraid of me," Clinton said.
In a wide-ranging interview that was Clinton's last before Tuesday's New Hampshire primary, Clinton made that pointed remark after being questioned about why some voters consider her to be untrustworthy. Clinton explained that after being the target of vicious attacks from the right for over 20 years, that sort of scrutiny left an indelible mark on the collective unconscious of the electorate, despite the fact that allegations against her are often baseless.
Clinton did not mince words when explaining her view that Republicans so consistently go after her because they know that, "I know how to get things done." She added, "That's the last thing these guys want to see again."
"I have to only conclude that there is a concerted effort to try to make partisan advantage by really throwing so much at me that even if little splotches of it stick, it will cloud people's judgment of me," Clinton told Maddow.
"That's a burden I will carry," Clinton said.
"I want your viewers and anyone else who would be interested in this to ask themselves, why does the right and particularly the Republicans, spend so much time, money and effort through the media, through their advertising?" Clinton rhetorically asked. "Because you look at the Republicans are running more ads against me than they run against each other. Why? I'll tell you why. Because they are afraid of me. They know that I will be a president who, yes, I will listen to people but I will stand my ground and I know how to get things done. That's the last thing these guys want to see again."
Watch vide of the exchange, below.