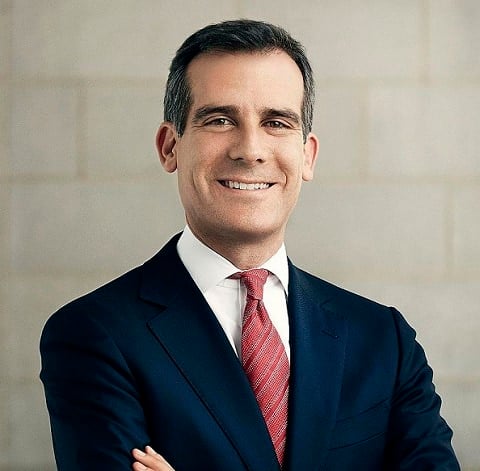 The City of Los Angeles has instituted a ban on none-essential travel to North Carolina and Mississippi for city employees, the mayor and city council announced on Friday.
The travel ban is in response to discriminatory laws signed over the past month that endanger the the basic rights of LGBT people living in, and visiting both states.
Said Mayor Eric Garcetti:
"I am proud to stand with the City Council today to enact a ban on non-essential travel for City employees to the States of North Carolina and Mississippi. In recent weeks, we have seen both of these states pass legislation that betray the basic rights to equal protection and self expression that all Americans are guaranteed by the Constitution. These bills are thinly veiled as actions to preserve religious freedom or protect against sexual violence, but will instead promote intolerance and discrimination against the LGBT community. With one stroke of their pen, Governor Pat McCrory and Governor Phil Bryant have jeopardized the safety and dignity of countless transgender, gay and lesbian people — who are already at an increased risk for violent crime. As someone who has fought for many years on behalf of LGBT Americans and their right to equal protection under the law, I will continue to do everything in my power to keep L.A.'s tax dollars from supporting discrimination based on sexual orientation and gender identity."
Said Councilmember Mike Bonin who wrote the resolution:
"State-sanctioned discrimination only perpetuates intolerance, hatred and violence. That is not at all what Los Angeles stands for, and today, we are sending a clear message that we will not endorse – with our dollars or our participation – discrimination toward our transgender, gay, lesbian and bisexual sisters and brothers."
Garcetti will sign the resolution next week.