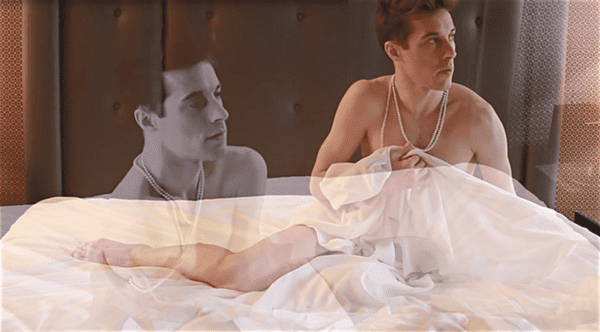 Morgan Reynolds is back with another pop song cover. But unlike his previous efforts, his latest video is a bit more introspective and a bit more melancholy.
Reynolds pairs down Sia's powerful anthem "Chandelier" to reveal the struggle that exists beneath the surface of the song.
Morgan told Towleroad of the cover, "With most of my videos being parodies, I wanted to take this newest cover with a more reflective look at myself. Not only looking at myself as a child of our social media generation but also comfortable in my own sexuality."
Morgan channels an old-Hollywood bombshell vibe while posing betwixt the sheets (above), which is fitting considering the quote he punctuates the end of the video with from Marilyn Monroe: "If I'd observed all the rules, I'd never gotten anywhere."
Morgan echoes that idea of struggle and gumption in the caption of his YouTube posting, writing, "The hustle is a 24/7 job. Waiting around in hopes of your dreams falling at your footsteps is a thing of the past. I encourage all of you, make your own work. Make your own art. Make your own dreams. Create."
Watch the video, shot by photographer Tyson Vick, below.