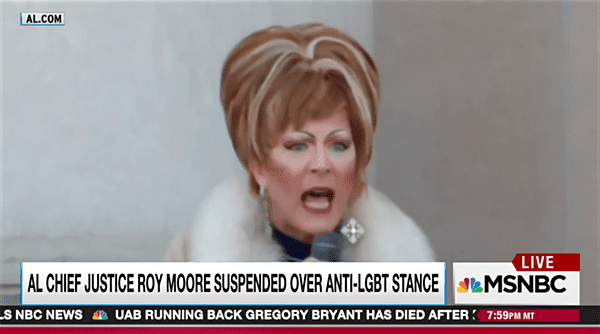 On Monday night, Rachel Maddow took a look at the almost complete collapse of state government in the state of Alabama.
As Maddow points out, all three branches of government — the executive, the judiciary and the legislature — are embroiled in scandal and legal trouble. The state's governor Robert Bentley has been facing accusations of corruption surrounding his extramarital affair with one of his top aides; the state Speaker of the House is currently under indictment on corruption charges of his own; and the state Supreme Court Chief Justice, Roy Moore, has been suspended from his post for flouting the U.S. Supreme Court's ruling on gay marriage.
Perhaps the most delicious part of these scandals, however, is the role played by an Alabama drag queen named Ambrosia Starling. Starling has been "among the Alabamians leading the charge", against Roy Moore. A fact that has incensed Moore.
Says Maddow:
The fact that a home-grown Alabama drag queen is among his most outspoken critics has apparently been driving Roy Moore nuts. After he got suspended from the bench on Friday night, Roy Moore couldn't help himself. The judge put out an enraged statement, accusing the state's judicial commission of "choosing to listen to people like Ambrosia Starling, a professed transvestite, and other gay, lesbian and bisexual individuals as well as organizations that support their agenda."
Moore then went on to call Starling insane. To which Starling responded, "I'm crazy for democracy!", adding of Moore, "Every bully always picks on the weakest kid in the room, and he thought that was going to be the drag queen. A lot of people make that mistake."
"Alabama is falling apart," Maddow says, and the jobs of Governor, Speaker of the House and Chief Justice might soon be vacant. "As far as I'm concerned," she says, "Ambrosia Starling could have her pick of the three."
Watch, below.