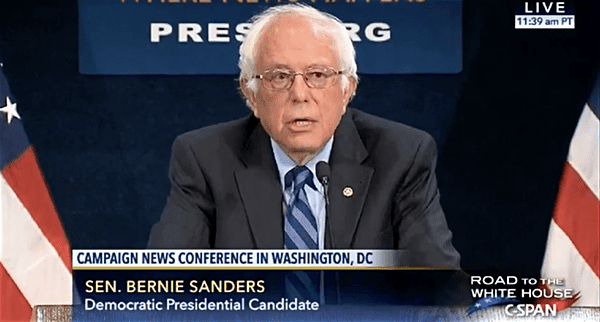 Bernie Sanders on Sunday said that he believes the Democratic National Convention in Philadelphia will be a contested one and urged superdelegates to back his presidential bid.
Sanders particularly appealed to superdelegates from states where he won by large margins.
Speaking at the National Press Club in Washington, D.C., the Vermont senator argued that Clinton "will need superdelegates to take her over the top at the convention in Philadelphia. In other words, it will be a contested convention."
Sanders said that in the states where he handily defeated Clinton, superdelegates who aren't supporting him should reconsider aligning themselves with the will of voters of those states.
"In the state of Washington, we won that caucus with almost 73 percent of the vote there — 73 percent of the vote. In anybody's opinion, that is a massive landslide. But at this point Secretary Clinton has 10 superdelegates from the state of Washington, we have zero," Sanders said, offering an example of a state where he won the popular vote but did not collect any superdelegates. "I would ask the superdelegates from the state of Washington to respect the wishes from the people in their state and the votes they have cast."
Here's where the delegate count stands at this point, ahead of Tuesday's Indiana primary.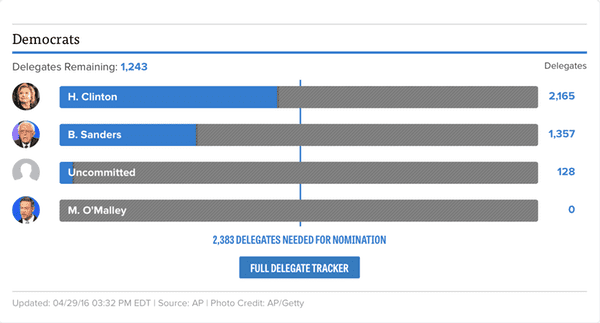 Of the road ahead, Sanders said, "For us to win the majority of pledged delegates, we need to win 710 out of the remaining 1083. That is 65 percent. That is, admittedly, a tough road to climb, but not an impossible one. And we intend to fight for every vote and delegate remaining."
Watch Bernie Sanders make his remarks, below.
https://www.youtube.com/watch?v=ojpiUBUdBOs