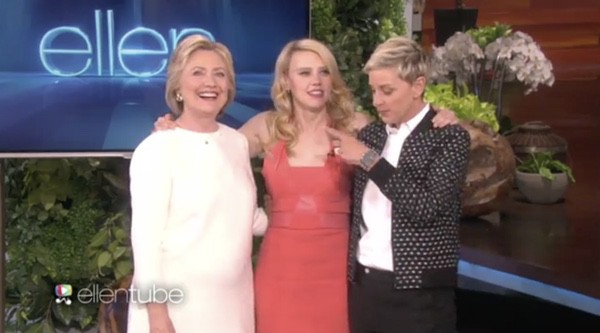 Hillary Clinton paid a visit to Ellen on Tuesday to chat about where things are at in the election cycle, more specifically, whether Bernie should drop out…
"I think he has to do what he chooses to do. I understand. I ran all the way to the end against then Senator Obama. When it was over…I withdrew, I endorsed him, and I worked really hard to elect him. And I do believe Bernie will do that….I'm so tired of the meanness, and the insulting, and the finger pointing, and the scapegoating. We ought to be working together. We ought to show respect to each other. We ought to listen to each other."
And Trump's feelings toward women….
"I would need a lot more information based on what I've heard him say. He has been very derogatory toward all kinds of women. He has specifically called out women by name, insulted them. He has said that equal pay isn't a real issue. He doesn't seem to think we need to do anything to create jobs and raise income and he actually says wages are too high in America. I'm sure there is somebody somewhere who he'd be good for but I think overall there's just no evidence that he has an understanding of what women's lives are like today."
Clinton was also asked whether she can believe, or ever did, that Trump would be the nominee. Then Ellen puts her to the test in choosing a running mate, and plays a game of "Who'd You Rather?" which featured some familiar faces.
And finally, Kate McKinnon stopped by to say hello to both of the women she plays on SNL.
Watch:
Who'd you rather?
And Kate McKinnon: