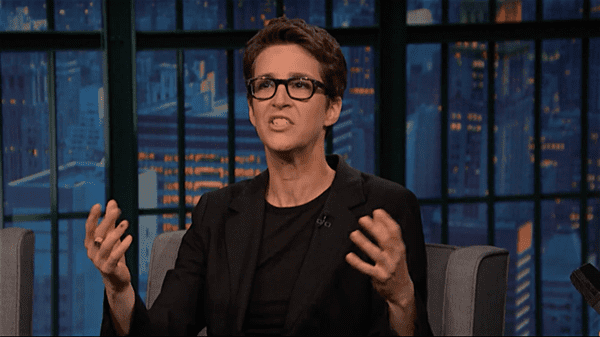 Last night, Rachel Maddow gave her assessment of what likely Democratic nominee Hillary Clinton can do to defeat Donald Trump in the upcoming general election.
Maddow told Seth Meyers that she believes one key reason why none of Trump's Republican challengers were able to take him down was because they tried to paint him as a phony conservative who doesn't pass the Republican litmus test–a test, it turns out, Republican voters didn't care about.
"He's not really running on one individual policy," Maddow says. In other words, trying to attack Trump solely based on policy will fail to gut his candidacy.
Maddow explains,
"Policy is just like whatever he grabs out of the air that's floating around him. It's not been what he's running on. He's sort of running on who he is. He's this big rich guy who doesn't pay attention to what people want from him, and he's willing to be politically correct, and he's self-funding. If you don't go at that, if you don't go at who he is and you try to keep it based on his policies which he doesn't even understand let alone necessarily believe in, I think yu kind of miss the point and you miss the chance to take him apart where it counts."
Of Hillary's chances of winning, right now Maddow says it's 50/50 and predicts 6 really ugly (but important!) months ahead.
Watch, below.