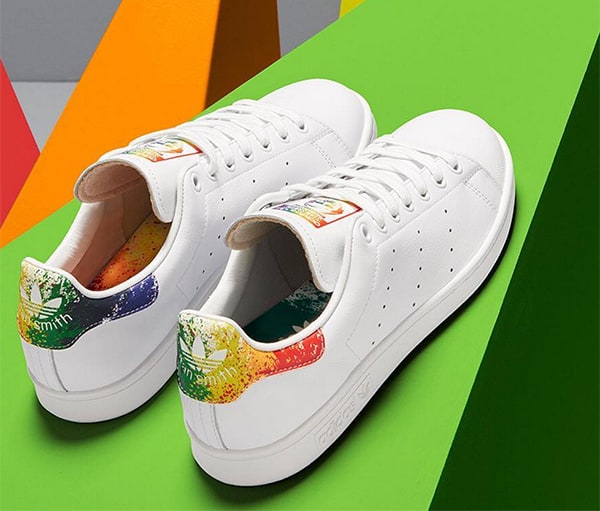 The Pride Pack is back. And it's bigger and better.
After showing some LGBT love last year with its first Pride Pack collection, adidas Originals (a line of the main brand that features its Trefoil logo) does it again. The brand came out this week with a 2016 version of the Pride Pack, and it now offers t-shirts, jackets and pants, as well.
Complex reports:
This collection flips the script on the offerings we saw last year, with the rainbow-splattered Superstar appearing in black and gold instead of 2015's more traditional white and black palette. Meanwhile, the Stan Smith is a bit more toned down than last year's paint drip colorway, with with rainbow colored sections appearing only at the tongue and heel logos this time around.
And this could be the start of a trend. Rival Converse also released a limited-edition Pride Collection in May.
This year, adidas Originals partnered up with Stonewall UK, Europe's largest LGBT rights organization, and proceeds from all sales of the Pride Pack will "go towards creating a world where every single person can be accepted without exception," according to its Instagram page.
https://www.instagram.com/p/BGHMwmMriaD/
Earlier this year, Adidas shut down some homophobic comments on Instagram in the classiest possible way. For Valentine's Day, the company posted on Instagram a photo featuring a cute lesbian couple. It received over 300,000 likes, but some haters were not happy with it. When user americanhero123 got all upset and said "Shame on you adidas !!!! I'm going to Nike now," Adidas just replied with a waving hand and a lipstick kiss — emoji-style.
adidas is so amazing for this pic.twitter.com/VO4x4CHYRC

— FREDDY (@FreddyAmazin) February 15, 2016
The user deleted his/her Instagram account soon after that.