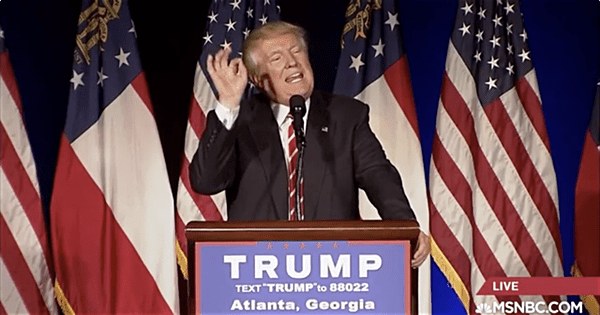 At a rally on Wednesday, Donald Trump again insisted that he is more pro-LGBT than Hillary Clinton.
While talking about what life for 'gays' is like in Saudi Arabia, Trump said, "Ask the gays what they think and what they do, in, not only Saudi Arabia, but many of these countries, and then you tell me – who's your friend Donald Trump or Hillary Clinton?"
Trump on Saudi Arabia, the Clintons, women and "the gays" https://t.co/8OzX9IJbNg

— Bradd Jaffy (@BraddJaffy) June 15, 2016
"Ask the gays" – Trump

— Katy Tur (@KatyTurNBC) June 15, 2016
Shortly after uttering "ask the gays", Twitter erupted in a hilarious takedown of Trump for a second time in just two days.
As of this post, "The Gays" has begun to trend on Twitter with 49,000 tweets.
Check out some of the best responses (with some work-unfriendly language), below.
Trump: "Ask the gays."

The gays: pic.twitter.com/syNYMRD5oC

— Emerson Collins (@ActuallyEmerson) June 15, 2016
TRUMP: "Ask the gays!"

THE GAYS: pic.twitter.com/Fys8g1FYTi

— 𝙍𝙤𝙗𝙚𝙧𝙩 𝙆𝙚𝙨𝙨𝙡𝙚𝙧 (@robertkessler) June 15, 2016
Trump: "ASK THE GAYS"

The Gays: pic.twitter.com/oirfqzDQnI

— Ethan Harvey (@ethanharv) June 15, 2016
https://twitter.com/Slade/status/743149411262414848
TRUMP: "Ask the gays!"

THE GAYS: pic.twitter.com/OZWoNIS8Gg

— Ryan McPhee (@rdmcphee) June 15, 2016
TRUMP: Ask the gays!

THE GAYS: pic.twitter.com/XhXTT7OkUc

— Love. Angel. Music. Benji. (@benarmishaw) June 15, 2016
https://twitter.com/almostdoctordan/status/743157336827633664
https://twitter.com/MajorPhilebrity/status/743154625491120128
https://twitter.com/justinkirkland4/status/743172537803214848
TRUMP: "Ask the gays!"

GAYS: pic.twitter.com/KalFI1vNps

— Ryan (@ryedth) June 15, 2016
Trump: "Ask the gays!"

Gays: pic.twitter.com/VpeaNT3fF6

— Alp Ozcelik (@alplicable) June 15, 2016
https://twitter.com/gaywonk/status/743143488846430209
https://twitter.com/gaywonk/status/743143931165151232
TRUMP: "Ask the gays!"

THE GAYS: pic.twitter.com/LaukQJeQ5i

— Joseph John Sanchez III (@JJS_III) June 15, 2016
Stop wearing "Oompah Loompah Orange" foundation. #AskTheGays

— Terry Miller (@fakedanshusband) June 15, 2016
Trump: "Ask the gays!"

Gays: pic.twitter.com/nHQl8znH9k

— Frank Costa (@feistyfrank) June 15, 2016
https://twitter.com/chrisvfeil/status/743172125905674240
Trump: "Ask the gays!"

Gays: pic.twitter.com/zHXn5Cu2ng

— Alp Ozcelik (@alplicable) June 15, 2016
Trump: "Ask the gays!"

Gays: pic.twitter.com/fbdslKxWPz

— HowWeGotAnts (@HowWeGotAnts) June 15, 2016
https://twitter.com/kevinpokeeffe/status/743176144367849472
TRUMP: "Ask the gays!"

THE GAYS: https://t.co/lgYFuwenEg

— T. Kyle 🏳️‍🌈 (@tkylemac) June 15, 2016