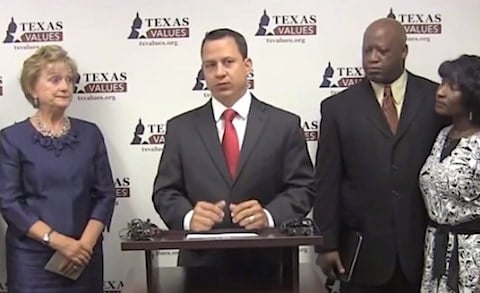 The City Council in the Dallas suburb of Mesquite, Texas, voted to add LGBT workers to the city's Equal Employment Opportunity Policy on Monday night, despite strong opposition from the hate group Texas Values.
In a news release earlier Monday, Texas Values President Jonathan Saenz (above) alleged that the proposed policy amounted to the city starting "a bathroom war."
"This dangerous ordinance forces every woman and girl in the City of Mesquite to be put in an uncomfortable and dangerous situation every time they use the restroom, shower, or locker room on city property," Saenz wrote.
Before the vote, council members forcefully rejected Saenz's argument.
"Sorry to disappoint everyone, this isn't the bathroom war…no matter what a political hack from Austin tells you in a fundraising email," Councilman Jeff Casper said. "Let me be clear: This policy has no effect on public restrooms. It simply states that the city of Mesquite's employment decisions will be based on character and merit."
More than 20 speakers who addressed the council during public comments were evenly divided on the proposed EEO policy.
"This obsession with bathrooms is not something that I understand," said former Democratic state Rep. Harryette Ehrhardt, a pioneering LGBT ally. "It's never been a really important thing in our family, and I don't know what the obsession about it is. Maybe it's because by espousing hatred and fear they can become more powerful."
Passage of the Mesquite policy marked the third consecutive defeat for Texas Values and other anti-LGBT groups, in the wake of voters' decision to repeal Houston's Equal Rights Ordinance in November. This spring, the Dallas suburb of Rockwall resoundingly rejected an anti-trans bathroom ordinance, and the Fort Worth school district enacted progressive new guidelines for dealing with trans students.