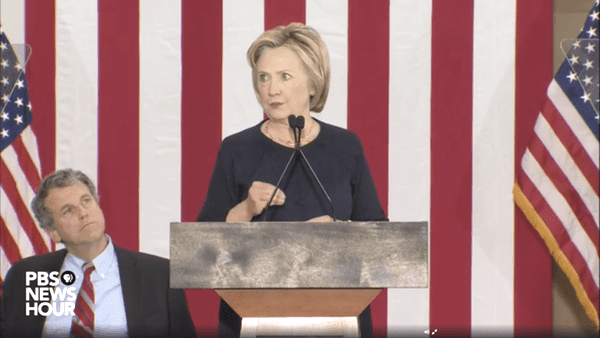 Hillary Clinton addressed the terrorist attack at the Orlando gay nightclub Pulse at a rally in Cleveland, Ohio on Monday, underscoring the grave impact the attack has had on the LGBT community. Clinton invoked memories of the Stonewall Riots in New York and the murder of Matthew Shepard in Laramie, Wyoming as anti-LGBT antecedents to the attack in Orlando, the worst terrorist attack on U.S. soil since 9/11.
In a somber speech, Clinton said, "Today is not a day for politics. On Sunday Americans woke up to a nightmare that has become nightmaringly familiar." She characterized the killer responsible for the attack as "a madmen" who was "consumed by rage against LGBT Americans and by extension the openness and diversity that defines our American way of life."
Clinton mourned the "many lives he viciously cut short, many of them young people just starting out in their lives." She said all of the victims "had one thing in common: they all had a lot more to give." Clinton added, "This is a moment when all Americans need to stand together."
Clinton told the group assembled, "The horror never fades. The murder of innocent people breaks our hearts, tears at our sense of security and makes us furious." She then added, "The Orlando terrorist may be dead but the virus that poisoned his mind is very much alive."
Clinton declared that hatred must be defeated with, among other things, "pride in our country and our values." Clinton appeared to add special emphasis on the word "pride" as she delivered her speech.
Said Clinton, "The terrorist in Orlando targeted LGBT Americans out of hatred and bigotry. And an attack on any American is an attack on all Americans."
Clinton went on to reiterate the sentiments she shared in the immediate wake of the attacks, telling those assembled, "To all the LGBT people grieving today in Florida and across our country. You have millions of allies who will always have your back. And I am one of them. From Stonewall to Laramie, and now Orlando. We've seen too many examples of how the struggle to live freely openly and without fear has been met by violence. We have to stand together, be proud together." She added, "There is no better rebuke to the terrorists and all those that hate" than to live freely and openly.
Watch the full speech, below.
https://www.facebook.com/newshour/videos/vb.6491828674/10154275361353675/?type=2&theater&notif_t=live_video_explicit&notif_id=1465837237316682