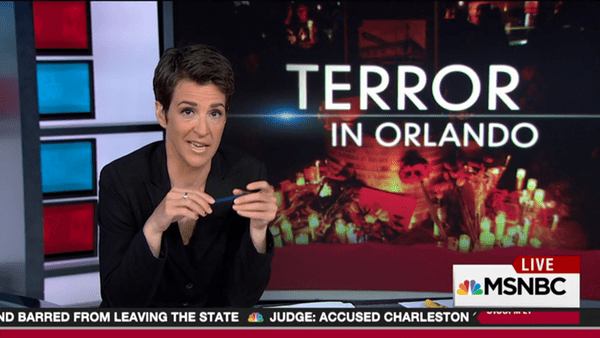 Rachel Maddow on Monday ran through a timeline of hate-motivated attacks on gay bars carried out in the last half century, the same period when gay communities began to organize and associate publicly.
As we reported yesterday, the brutal massacre in Orlando wasn't the first time gay Americans have been the target of violence.
From the Stonewall Riots, to the horrific attack on the Upstairs Lounge in New Orleans in 1973 (where 32 people lost their lives), to the bombing of a lesbian bar by Atlanta Olympic Park bomber Eric Rudolph, to the arson, "The gay community in the United States knows from violence," as Maddow said. Maddow points out, "Stonewall is not a place [where the LGBT community] had meetings. Stonewall is a place they had a riot."
She added, "The gay community in this country is forged in fire to a certain extent. And it's therefore a tough community. But what just happened in Orlando it isn't just an attack on the gay community. This time it's the worst terrorist attack on U.S. soil since 9/11."
Watch as Maddow explains how the Orlando massacre may have been the worst anti-gay attack in U.S. history, but was far from the first, below.
You can also watch a clip in which Maddow recaps some of the vigils held around the world yesterday for the Orlando victims.