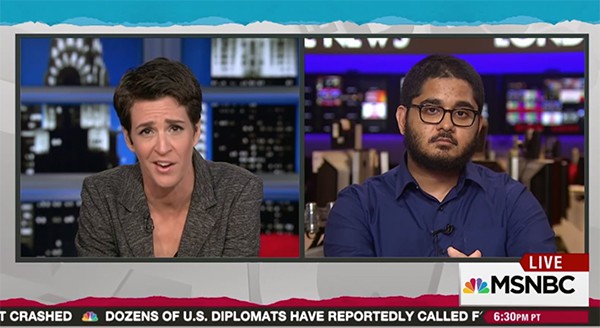 Rachel Maddow had some insights on how the combination of self-hatred, homophobia and radicalism can add to catastrophic and deadly results.
In the Rachel Maddow Show Friday, she sat down with Sohail Ahmed, a self-described reformed Islamic extremist who also happens to be gay. He told her about his experiences as a gay muslim who was taught to think of his sexuality as an "abomination," and how he planned on dealing with it.
Ahmed explained that he had become increasingly more radicalized in an attempt to "cure" his "homosexuality" as a teenager, and that the situation escalated in such a way that at one point, he was "seriously considering carrying out attacks."
His idea was to "make a homemade explosive device, plant it at a location and detonate it remotely." He'd even decided where: Canary Wharf, a "redeveloped area in East London," because it symbolized "how rich" London was.
Interestingly, what made him change his mind was the very thing he was planning on doing.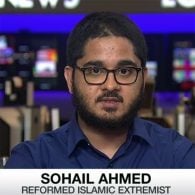 After terrorists killed 52 people in London on July 7, 2005, Ahmed started having doubts about his views. He looked for answers and found articles by the Quilliam Foundation, "the world's first counter extremism think tank," which made him finally realize that extremism was an "evil ideology" which "must be stopped in its roots."
At the same time, Ahmed was also struggling with his sexuality, even though he'd never thought of himself as gay — even after he was "de-radicalized," he said. "All I knew was that I had same-sex attractions, but I assumed that they were simply there temporarily, or that I was possessed, or that they were a deviation of my internal nature."
Only after Ahmed finally "managed to find the courage" to question everything he knew about homosexuality, and after he found scientific studies that showed that being gay was "natural," he was able to came out to himself. "For the first time ever, I was happy to be Muslim and happy to be gay, he said."
Maddow asked him if he thought the Orlando shooter could've been gay himself, as it's been speculated by the media.
"Absolutely," he said. "Imagine being brought up believing that you are an abomination, that you are evil and that you should hide who you are. That would result in internalized homophobia, which would then turn into externalized homophobia. On top of that, given that there are significant mainstream conservative traditionalist interpretations of Islam that stipulate that gay people should be killed, it's not surprising that he would end up on a shooting spree."
Check out Maddow's full, fascinating interview below: