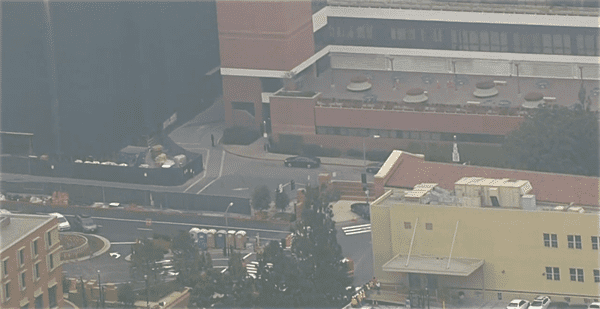 The campus of the University of California Los Angeles is on lockdown after a shooting was reported.
There have been two victims and both have been confirmed dead, according to MSNBC.
UPDATE: Multiple news outlets in addition to UCLA itself and the LAPD have confirmed the two known victims have died.
#LAPD News: #UCLA Update- Confirming 2 fatalities. Please continue avoid the area.

— LAPD HQ (@LAPDHQ) June 1, 2016
Police confirm 2 dead in shooting at UCLA. Police are sweeping Engineering IV building for a possible shooter. Watch for updates.

— UCLA Newsroom (@UCLAnewsroom) June 1, 2016
Watch live video from NBC, below.
Photos from the day below.
#UCLA shooting. Barricaded in room in bunche. Doors open outward, no locks. Lots of helicopters and yelling outsid pic.twitter.com/6g2coCdOTC

— Daph (@whydaphnewhy) June 1, 2016
Students barricading themselves inside classroom at UCLA. Gunman still on loose. pic.twitter.com/rfOseiQUnF

— Joel Franco (@OfficialJoelF) June 1, 2016
UPDATE: LAPD on tactical alert at #UCLA following reports of an active shooter. 2 stretchers went into building pic.twitter.com/Qzz0dEnJiV

— Val Gratias (@valeriegratias) June 1, 2016
https://twitter.com/maggiemay161/status/738072044047208449
WATCH #LIVE: @abc7leo live on UCLA campus amid search for shooter https://t.co/u5lTveArpy pic.twitter.com/Z3ZJhEqxdy

— ABC7 Eyewitness News (@ABC7) June 1, 2016
Watch an interview with a UCLA student who called into MSNBC, below.
And video from earlier:
https://www.youtube.com/watch?v=pRFhj5I8hjs
UPDATE #2: ABC News has this statement from the LAPD.
LAPD on UCLA shooting: 2 males suffered gunshot wounds on campus; "no additional suspects have been seen." pic.twitter.com/DLaMcLjuB2

— World News Tonight (@ABCWorldNews) June 1, 2016
UPDATE #3: The shooting appears to have been a murder-suicide.
#LAPD News: @LAPDChiefBeck Campus is now safe & incident is contained. 2 males are dead. Possible murder-suicide. @UCLABruinAlert @MayorOfLA

— LAPD HQ (@LAPDHQ) June 1, 2016