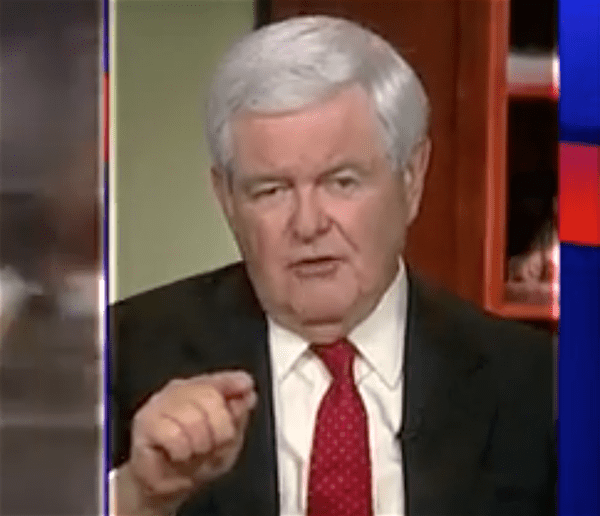 "Western civilization is in a war," former Speaker of the House Newt Gingrich told Sean Hannity on Thursday night after the terrorist attack in Nice, France.
Gingrich said that all Muslims in the United States, American citizens or otherwise, should be tested to see if they believe in "sharia." If they do, Gingrich says they should be deported immediately.
"Every person here who is of a Muslim background" should be tested to determine whether he or she believes in Shariah, a legal code based on the Quran and other Islamic scriptures.
If they do, he said, they should be deported — even if they're U.S. citizens. Gingrich added that anyone who simply visits any website "favoring ISIS or al Qaeda or other terrorist groups" should be guilty of a felony, "and they should go to jail."
Gingrich added,
"Everyone who watches this video, this is the fault of western elites who lack the guts  to do what is right, to do what is necessary, to tell us the truth, and that starts with Barack Obama."
The Council on American-Islamic Relations (CAIR) National Executive Director Nihad Awad said of Gingrich's comments,
"When former House Speaker Newt Gingrich suggests that American Muslims be subjected to an Inquisition-style religious test and then expelled from their homes and nation, he plays into the hands of terror recruiters and betrays the American values he purports to uphold."
Watch, below.