WHITE SUPREMACY. Anti-gay Iowa Rep. Steve King says white people have contributed more to western civilization that other 'subgroups': "'This 'old white people' business does get a little tired, Charlie,' King said. 'I'd ask you to go back through history and figure out, where are these contributions that have been made by these other categories of people that you're talking about, where did any other subgroup of people contribute more to civilization?' 'Than white people?' Hayes asked, clearly amazed."
MALE MODEL MONDAY. Bryce Detloff. 
BEST SENTENCE OF THE DAY. "Jake Gyllenhaal […] brought his hot thighs to the streets while looking like Freddie Mercury in Brian Fellow drag."
ANNOUNCEMENTS. Pippa Middleton is getting hitched.
TRUMP 2016. Campaign announces that Omarosa will be director of African-American outreach: "The former reality star and memorable "villain" of the franchise previously served as vice-chairman for the National Diversity Coalition for Trump. MSNBC host Craig Melvin […] showed her a poll indicating that zero percent of African American voters in Ohio said they'd vote from Trump."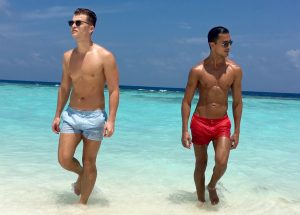 GAY AND AWAY. Travel to Tel Aviv with gay travel gurus Dcal & Timwatch.
ROAD TO RIO. Nearly half a million condoms have been ordered for the Olympic village at Rio 2016: "That works out to 42 "camisinhas,'' Brazilian slang for condoms, per athlete. (In Brazilian slang, the term means 'little shirts.' ) 'This is considered sufficient to encourage athletes to practice safe sex while in Brazil for the Olympic Games,' the IOC told Folha."
TURKEY.  A news round-up of the aftermath of last Friday's attempted coup. 
MIKE PENCE. The Indiana governor once denounced the Disney movie Mulan as liberal propaganda that provide women in the military is a bad idea: "Disney expects us to believe that Mulan's ingenuity and courage were enough to carry her to military success on an equal basis with her cloddish cohorts."
OP-ED. The IOC should ban Russia from the 2016 games over doping scandals: "The McLaren Report says Russia and its athletes are not to be trusted, that instead of promoting clean sport, as Russia signed on to do as a major player in the Olympic world, it has become the new East Germany. The International Olympic Committee now has to step up and do what it won't want to do, but must: Russia has to be kicked out of the Rio Olympic Games. Not just the Russian track and field athletes, who, with the exception of two athletes, already are."
MOVIES. First trailer for feature adaptation of thriller novel The Girl on the Train starring Emily Blunt and Luke Evans.
MAN CRUSH MONDAY. Jeff Langan.