TELEVISION. Caitlyn Jenner's E! reality show I Am Cait has been cancelled: "Caitlyn and E! have mutually decided not to move forward with another season at this time. She will always remain a part of the E! family, and we look forward to continue following her journey as she appears on Keeping Up With the Kardashians."
After 2 amazing seasons of @IAmCait, it's time for the next adventure. Thank you E! & thank you to the best girlfriends I could ask for!

— Caitlyn Jenner (@Caitlyn_Jenner) August 16, 2016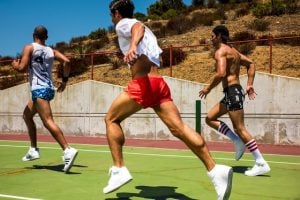 FASHION. Grindr has its own line of clothing now: "The Grindr collaboration sits squarely on the athletic side of the sartorial spectrum; so you'll find a jockstrap (of course), colorful swimming trunks, mesh tank tops, sweatshirts, and a coach's jacket in the app's signature shade of yellow. And if all of that weren't sportif enough, proceeds from the sale of these items will benefit Athlete Ally, an organization working to combat homophobia and transphobia in sports."
RIP. Legendary host of the McLaughlin group John McLaughlin has passed away at 89: "McLaughlin hosted the Sunday morning public affairs shows since 1982 and only missed one episode: last week's. The McLaughlin Group went on the air January 1, 1982 and for the next 26 years was produced at NBC's WRC in Washington, D.C."
MOVIES. New full-length trailer for alien thriller Arrival starring Amy Adams.
LOINCLOTH NEWS. Case surrounding gay San Diego's man's arrest for wearing a loincloth (with thong underwear on underneath) during Pride makes its way up to the 9th Circuit: "I have no idea why they didn't just tell me 'We're sorry that we did this to you."
TRUMP. Michael Moore says the Donald never wanted the presidency, is sabotaging his candidacy on purpose, just ran to get more money out of NBC for his Apprentice deal: "'Simply put, he wanted more money,' Moore continued. 'He had floated the idea before of possibly running for president in the hopes that the attention from that would make his negotiating position stronger.'"
WEDDED BLISS. Ellen DeGeneres celebrates 8 year anniversary with Portia de Rossi.
MUSICAL. Todrick Hall is headed to Broadway to play Lola in Kinky Boots.
TOO HOT FOR TUESDAY. Team USA fencer Miles Chamley-Watson.
https://instagram.com/p/BIfTUUfAbIb/
https://instagram.com/p/BIF9AUjD3lZ/