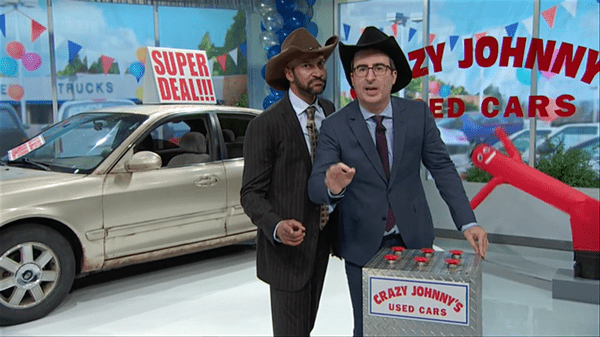 John Oliver took on the predatory world of car loans on Last Week Tonight on Sunday, pointing out how the number of sub-prime auto loans is peaking.
Oliver also pointed out how used car loans that promise to approve anyone (seriously, anyone) ensnare people in a mountain of debt that, as Oliver puts it, "will affect every financial decision you make for the best part of the next decade."
Explaining the extent of the problem, Oliver said,
"Nearly a quarter of all car loans are of the high-risk subprime variety. In fact, so many are being issued, they recently reached a 10-year high. And if the phrase 'A boom in subprime loans' is making your eye twitch with flashbacks to the mortgage crisis, just wait — we will get there."
Even if you've suffered from bankruptcy, car repossession, or foreclosure, it is still incredibly easy to find yourself a victim of more offers for subprime loans. Oliver called the process a "feeding frenzy". The staff even sent an undercover camera to a debt-buyers conference in Las Vegas, revealing the language of Ken Shilson from the National Alliance of Buy Here Pay Here Dealers, who said, "These people have negative equity all the way through and they're not going to be able to hold their life together for seven years… You know the customer. You know how to collect. You've got the legal expertise. What's holding you back?"
Oliver also enlisted the help of Keegan-Michael Key and Bob Balaban to comedically underscore everything that's wrong with the predatory world of auto lending.
Watch below.