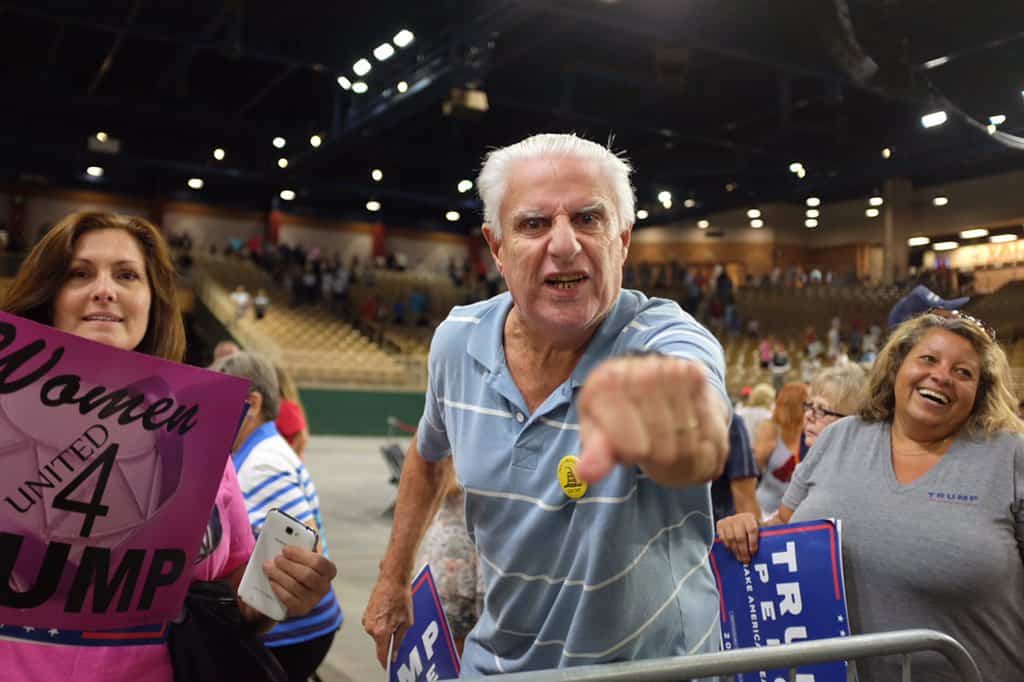 Hostility towards the media is nothing new from the Trump campaign or from Trump supporters.
NBC News reporter Katy Tur recently wrote a piece for Marie Claire about her experience covering the Trump campaign, highlighting how Trump often stokes the crowd's disdain for the media. Trump has also repeatedly singled Tur out at rallies, turning the ire of the crowd upon her. The danger was so real for Tur that at one event the Secret Service had to escort her out to make sure she was allowed to leave safely.
So suffice it to say, Trump voters don't like the media.
But seldom has their hostility towards the media been so perfectly distilled as it is in a series of photos and videos that emerged on Twitter Thursday showing an incensed Trump supporter accusing the media of being traitors. Never mind that Trump himself is calling on Russia to interfere in our election so as to benefit him.
As Mediaite reports, the elderly man "went up to reporters and started haranguing them on his way out."
Reporters were cordoned off in a pen when the unknown man started verbally assailing journalists, flipping them off, and saying that his name was "American Patriot."
The absolutely insane footage and photos of the incident can be seen below.
"Go home! You are a traitor! I am an American Patriot!" Trump supporter screams at me and other journos in pen pic.twitter.com/Tg4oRoQ7UQ

— Noah Gray (@NoahGrayCNN) August 12, 2016
Oh, just another lovely encounter with an angry @realDonaldTrump supporter after a rally by the media pen: pic.twitter.com/tZv5bQBDeE

— Jeremy Diamond (@JDiamond1) August 11, 2016
Video: I tried to get the guy's name, and he replied, "PATRIOT, AMERICAN PATRIOT! YOUR NAME IS TRAITOR!!" pic.twitter.com/CyMhvLWgVc

— Frank Thorp V (@frankthorp) August 12, 2016
Trump supporter swings by the press pen in Kissimmee, FL to let us know we're number one!! pic.twitter.com/WzUPBal7nW

— Frank Thorp V (@frankthorp) August 12, 2016
Also spotted at the Trump rally? A confederate flag with Trump's name on it. Because America.
Spotted at Trump Kissimmee evening rally: stars & bars with Trump's name on it (from supporters) pic.twitter.com/0y6pBhSBTb

— Noah Gray (@NoahGrayCNN) August 11, 2016
[Top image via Twitter]