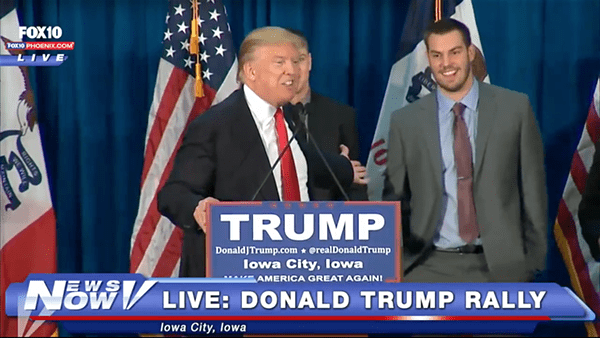 "Look at the size of these guys!"
In January, Donald Trump held a rally in Iowa in which he brought up a bevy of beefy, corn-fed Iowa State football players and wrestlers onto the stage to press the flesh.
While the event itself may have been fairly innocuous (aside from causing a scandal at the NCAA), it becomes far more entertaining if you take what Trump said and add a stereotypical 'gay voice.'
YouTuber Peter Serafinowicz did just that in a video he calls, "Sassy Trump: Heterosexual Trump."
You may recall that back in February we shared Serafinowicz's video titled 'Donald Gay Trump' in which Serafinowicz first gave Trump a 'gay voice.' That video went viral with over 1.7 million hits as of this posting.
Wrote Serafinowicz of his latest video, "This actually happened. I dubbed his voice, but it's all Trump's words."
Watch, below.
https://www.youtube.com/watch?v=vPZrXakglYM&feature=youtu.be