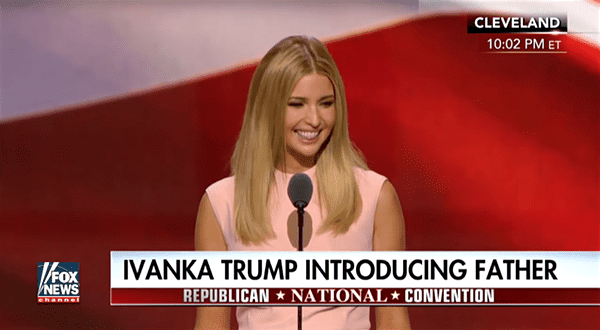 In a tense phone interview with Cosmopolitan magazine, Ivanka Trump suggested that when it comes to her father's plan for paid family leave, gay men are not in the picture.
Ms. Trump has been credited as being the chief architect behind her father's plan, which she has said makes him a pro-woman candidate. And while Donald Trump has claimed to be a friend of 'the gays', his family leave plan makes no mention of paid paternity leave, something that would obviously benefit gay couples.
Yet in addressing the absence of paternity leave in her father's plan, Ms. Trump went out of her way to invoke the plan's benefits for same-sex couples.
"This is a giant leap from where we are today, which is sadly, nothing," Ms. Trump said. "Both sides of the aisle have been unable to agree on this issue, so I think this takes huge advancement and obviously, for same-sex couples as well*, there's tremendous benefit here to enabling the mother to recover after childbirth. It's critical for the health of the mother. It's critical for bonding with the child, and that was a top focus of this plan."
She added, "So it's meant to benefit, whether it's in same-sex marriages as well*, to benefit the mother who has given birth to the child if they have legal married status under the tax code."
But when asked about why the policy excludes family leave for gay couples, "where both partners are men", Ms. Trump replied, "The policy is fleshed out online, so you can go see all the elements of it. But the original intention of the plan is to help mothers in recovery in the immediate aftermath of childbirth."
The exchange got even more tense when the Cosmopolitan interviewer attempted to clarify the issue. "So I just want to be clear that, for same-sex adoption, where the two parents are both men, they would not be receiving special leave for that because they don't need to recover or anything?", Cosmopolitan asked.
Ms. Trump came back with, "Well, those are your words, not mine. [Laughs.] Those are your words. The plan, right now, is focusing on mothers, whether they be in same-sex marriages or not."
The interview was ultimately cut short after additional tense exchanges.
[*emphasis added]