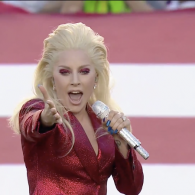 SUPER BOWL 2017. Lady Gaga is in talks to perform the halftime show this year. NFL says, ""We have had conversations with several fantastic artists about the Pepsi Super Bowl Halftime Show."
ON THE STUMP. President Obama campaigns for Hillary in Philadelphia: "We can't afford to act as if there's some equivalence here."
NORTH CAROLINA. GOP Congressman says NCAA withholding championship games is extortion: "We will not be intimidated by elitists who are attempting to extort and embarrass North Carolina for defending its citizens."
TESLA. Company announces ingenious fix to problem that killed Florida driver using autopilot: "Bolstered by new signal-processing techniques and a crowdsourcing system called 'fleet learning,' radar now enjoys a co-starring role alongside video in the autopilot system."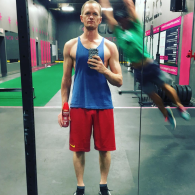 CELEBRITY INSTAGRAM. NPH is looking jacked. 
DEFINITION. The Oxford English Dictionary just got some new words: "Splendiferous, meaning full of or abounding in splendor, joins yogalates, a fitness routine combining pilates exercises with the techniques of yoga, and moobs, unusually prominent breasts on a man, as new entries to the 150-year-old dictionary's collection of 600,000 words. Other words and phrases in the latest edition include the 'Westminster Bubble' of supposedly insular British politicians and civil servants, 'gender-fluid', meaning a person with a fluid or unfixed gender identity, and 'YOLO' – an acronym for 'you only live once'."
GLEE. Naya Rivera was not shocked about news of ex Mark Salling's child porn charges. 
MATT BEVIN. The Kentucky governor warns of violence if Hillary is elected president: "I want us to be able to fight ideologically, mentally, spiritually, economically, so that we don't have to do it physically," Bevin said Saturday. "But that may, in fact, be the case."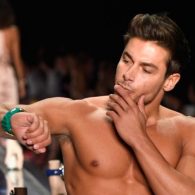 SKIN. European watch company KYOBE! uses shirtless male models to help sell watches during NY Fashion Week.
WAVES OF DEBT. Streaming service Tidal is in trouble: "Presented as an artist-friendly alternative to streaming services like Spotify, Tidal was supposed to be a haven for musicians; at least according to its marketing materials, which touted higher royalties and exciting exclusives for subscribers. In practice, all the good stuff ends up on YouTube anyway, and according to reports, anyone whose name doesn't rhyme with fiancé isn't getting paid."
RYAN POTTER. Does Batman need a Robin? Big Hero 6 actor Potter makes his case to Ben Affleck.
TRAILERS. Full first trailer for 50 Shades Darker.
TWO HOT FOR TUESDAY. Mr. India Jitesh Thakur.