Another week, another hour of watching Robert Sepulveda Jr. shuffle through potential mates like they're manila envelopes full of Creatine and facial moisturizer. We're at the point now where I at least feel like I know everyone's name, but we're still early enough in this courtship for the dates to crackle with all the passion and romance of the greeting card aisle at CVS.
With much less drama going on at the house, all the focus is back on our titular Prince, who is unfortunately the least interesting part of this show.
Is anyone closer to stealing his heart? Who will have to turn in their tie? And has anyone caught that pesky canary yet? Find out in our Finding Prince Charming recap, below.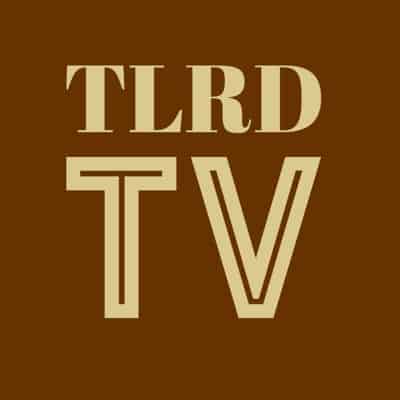 Surprise! Robert's here for a morning blitz. How many times can Robert or Lance "surprise" the guys at the house in the morning? They're always aghast that they've still got their curlers in or whatever. At this point, shouldn't they just assume that, I don't know, if the cameras are there, they should be dressed, coiffed and lubed up, just in case?
The guys manage to put themselves together enough to cook breakfast with the Prince. I keep trying to get a handle on what they're cooking, but the only finished dishes I spot are maybe a plate of eggs, some cantaloupes stuffed with cottage cheese and a bowl of sliced cucumbers. Someone was chopping peppers at one point, and someone made bacon, but I assure you there was not a carb in sight.
Robert pulls Paul away to reconnect, and Robby wonders what the Robert sees in him. I can't say I disagree. I would say Paul is human Ambien, but I think that underestimates how fun Ambien can be in the right context.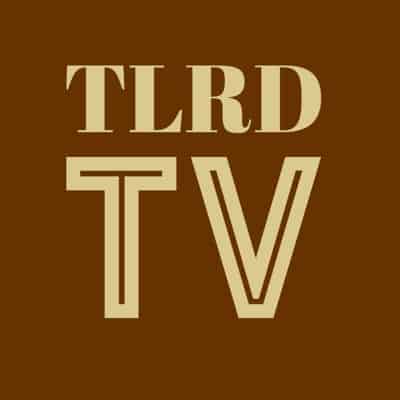 Chad also wants to sneak in some alone time with Robert, so he wrangles him into one of those hanging rattan sex swings that are all over the patio. They start to kiss, and I feel like it's the most successful, human adult kiss we've seen yet. You still catch glimpses of Robert's tongue flopping onto Chad's mouth like the midpoint of a drive-through carwash against a windshield, but I guess that's just his signature move.
One more one-on-one chat, this time with Dillon, clears up any lingering tension following last week's dust-up. With all that drama settled, it's time for Lance Bass to appear and introduce the latest convoluted set-up to another round of sloppy kissing.
This week, Robert will go on a "three-course date" — one guy for the appetizer course, one for the main and one for dessert. Lance tries to explain this as seductively as possible, but it actually just kind of makes it sound like Robert is going to cannibalize them.
To keep things interesting (relatively speaking), Robert awards the dates to the three guys with whom he's had the least one-on-one time so far. He chooses to have Robby for an appetizer (and Robby reacts as only RuPaul's Drag Race's Alaska as Mae West could). He'll share a main course with Eric and then dessert with Brandon.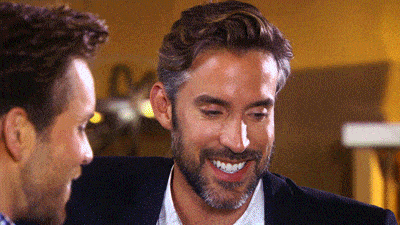 Robert keeps describing Robby as " … fun" throughout the whole episode, complete with that little hesitation each time. He's saying "… fun," but what he means is theatrical, dramatic, feminine, light in the loafers, swishy. It's what makes Robby so endearing and such a welcome presence among these bores, but it also seems like something that makes Robert a little uncomfortable.
On their date, Robert presses Robby to see if his humor is actually a coping mechanism to hide something dark and sinister within him. Robby, bless him, assures him that no, he just has a personality. In this crew, I can see how that warrants explanation. The two share a kiss, but it's very brief and Robert keeps his tongue contained to his own mouth, which I think means he's not very into it. You guys, I get the sneaking suspicion that Robert is just a terrible kisser.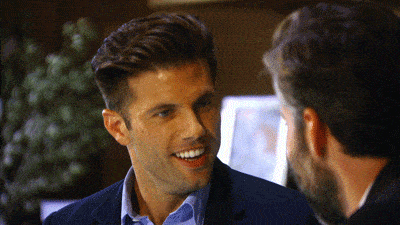 Eric's date with Robert is more successful, I guess. It gets interesting for a moment when Eric tells Robert he's not into open relationships, even though they're so prevalent in the gay community. It almost seems like this show is going to dive in and explore something interesting about the gay community, but nope! They both just immediately agree that it's monogamy or bust and then start talking about whose parents hug each other more, or something. It's very sexy dinner convo.
It's a wonder they both weren't crushed by the irony of having this entire conversation about the power of monogamy while on a reality show in which one of them is simultaneously dating a house full of strangers. They seem to enjoy their meal, despite numerous awkward silences between them. Eric is pretty, in a dead-eyed Abercrombie assistant manager sort of way, so I understand Robert's interest. Still, I think I'd rather be waterboarded with Muscle Milk than have to sit through such a boring date.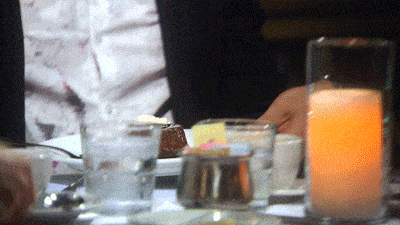 Robert's time with Brandon is the best of the three, and, dare I say, actually sort of charming. Brandon opens up about his recovery from alcohol and cocaine addiction, and the show resists the urge to play it up for drama.
Instead, Brandon is remarkably candid without being overly emotional about his recovery, and Robert says it's sexy that he's owning it. For all the ragging on this show I do (and will continue to do), I actually really enjoyed this scene, sincerely.
It would be easy to play up the drama of Brandon's struggles with addiction, or, even easier for Robert to tell him how "brave" he is (which is so lazy and cliché). But, instead, he said it was sexy. Addiction is a huge problem in this country, particularly in the gay community. I love seeing this show frame recovery as empowering and sexy. Good job!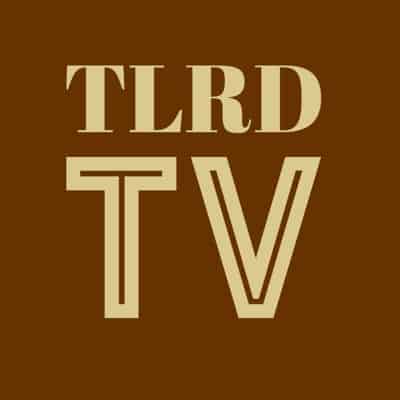 The next day, the other guys (Chad, Paul, Dillon and Justin) get to go on a group date at some terrible industrial warehouse fitness bootcamp nightmare hellscape.
Despite the fact each of these guys look like Men.com models, they all struggle to do the workout. Paul, who is built like an action figure, really struggles. He's super uncomfortable, hesitant to even sit his clean white shorts on the floor. He tells the guys that his trainer gives him cold towels during his workouts so he doesn't sweat, which is an insane thing to say on no less than three levels.
Watching Paul force a pained smile throughout this date is honestly worth sitting through the whole episode. It's great. He can barely do situps, which honestly makes me wonder WHAT EVEN IS HIS BODY? IS HIS SKIN JUST FULL OF SAND? I'm so confused!
The whole excursion gets spun into Paul's complex about being a perfectionist, although the impression I got from the footage we saw was that he was just uppity. It was less about being hard on himself and more about not being adaptable to the slightest amount of discomfort. Anyway, once he shows up to the Black Tie Affair wearing a suit that was either made entirely of leather or just obnoxiously shiny (either way, I'm sure it was stupid expensive), I get the sense his days are numbered.
It comes down to Paul and Robby, who might be too "… fun" for Robert. I swear, after losing Sam the loose cannon and Danique the freak, I'm not sure I can get through this show without Robby! In the end, Robert decides to keep Robby (with the warning that he'll have to show his serious side), and he sends Paul packing.
Paul is disappointed with the outcome, but I can't tell you everything he says before departing because I fell asleep halfway through his exit interview.
What did you think of this week's episode of Finding Prince Charming?