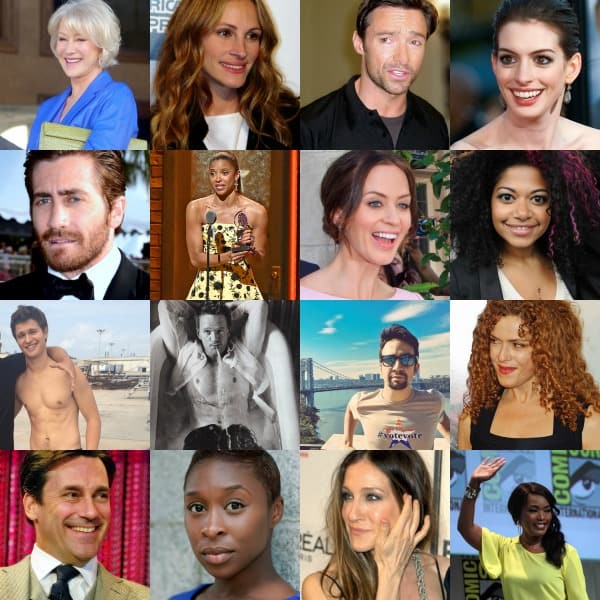 A bevy of stars of stage and screen will be performing at a special campaign event tonight at 8:30 PM EST in support of Hillary Clinton's candidacy.
The fundraiser titled Stronger Together, Clinton's campaign slogan, will be a special night at the theatre which you can stream live.
The event will feature musical performances and monologues from Julia Roberts, Lin-Manuel Miranda, Jake Gyllenhaal, Jon Hamm, Hugh Jackman, Sarah Jessica Parker, Matthew Broderick, Emily Blunt, Neil Patrick Harris, Helen Mirren, Sienna Miller, Anne Hathaway, Lena Dunham, Bette Midler, Josh Groban, Ansel Elgort, Sara Bareilles, Angela Bassett, Bernadette Peters, Cynthia Erivo, Renée Elise Goldsberry, Rebecca Naomi Jones, Sarah Jones, Andrea McArdle, Ayodele Casel and more. Billy Crystal hosts.
Viewers will be treated to never before seen duets and collaborations including Sarah Jessica Parker and Andrea McArdle singing "Tomorrow" from Annie, and Emily Blunt joining Bernadette Peters for renditions of songs from Into the Woods.
Stronger Together is being produced by heavyweights Jordan Roth and Richie Jackson, Stephen Schwartz and Harvey Weinstein.
LIVESTREAM the event below at 8:30 PM EST.
https://www.youtube.com/watch?v=6DcSjabCY1I
And check out the full set list of what to expect, here:
STRONGER TOGETHER – SET LIST
PERFORMANCES:
"HILLARY TONIGHT" – Billy Crystal & Adult Chorus
"OH WHAT A BEAUTIFUL MORNING" – Hugh Jackman
"WILKOMMEN/CABARET" – Joel Grey & Sienna Miller
"BEEN A LONG DAY" – Matthew Broderick, Sarah Jessica Parker & Victoria Clark
"WHILE I HAVE THE FLOOR"– Ayodele Casel (tap dance)
"BRAVE" – Sara Bareilles
"ORIGIN OF LOVE" – Neil Patrick Harris, Rebecca Naomi Jones & Stephen Trask (ballet dancers: Stella Abrera, Leanne Cope, Marcelo Gomes, Clifford Williams)
"NO ONE IS ALONE" Reprise – Emily Blunt
"CHILDREN WILL LISTEN" – Bernadette Peters & Children's Chorus
"CLIMB EVERY MOUNTAIN" – Barbra Streisand & Jamie Fox (video)
"GET HAPPY / HAPPY DAYS ARE HERE AGAIN"- Anne Hathaway & Kelli O'Hara
"FOR GOOD" – Stephen Schwartz & Kelli O'Hara
"IT CAN'T HAPPEN HERE" – Jon Hamm & Jake Gyllenhaal
"TOMORROW" – Sarah Jessica Parker & Andrea McArdle
"OVER THE RAINBOW" – Josh Groban
"THE WORLD WAS WIDE ENOUGH" (rewrite from Hamilton) – Lin-Manuel Miranda & Renée Elise
Goldsberry
"BATTLE HYMN OF THE REPUBLIC" – Cynthia Erivo, Adult and Kids' Chorus, full company
MONOLOGUES & SPEECHES:
Alan Cumming
Angela Bassett
Ansel Elgort
Chelsea Clinton
Helen Mirren
Julia Roberts
Lena Dunham
Neil Patrick Harris
Sarah Jones
Sarah Paulson
Uzo Aduba