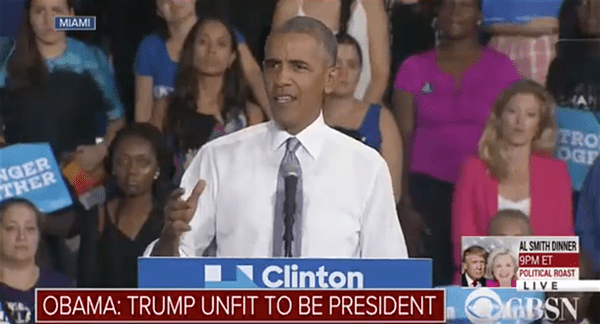 President Obama blasted Republicans who are sticking by Trump while speaking at a rally for Hillary Clinton on Thursday in Miami, Florida.
Obama took particular aim at Senator Marco Rubio, who is up for reelection, after he refused to un-endorse Trump despite his complicity in Russian hacking of American emails and servers to influence the presidential election.
Obama also called out Reagan-loving Republicans for choosing–and standing by–a nominee who openly carries out a "bromance" with Russian president Vladimir Putin, a former KGB officer who is widely viewed to rule Russia as an authoritarian dictator and not as a democratically-elected leader.
Said Obama to Republicans, "You're ok with your nominee having a bromance with Vladimir Putin?"
Obama's remarks on Thursday are seemingly the first time a president of the United States has said the word 'bromance' in an official statement.
Watch, below.
WATCH: Obama calls out Trump for having a "bromance with Putin" https://t.co/XtXBFSOFjA pic.twitter.com/TMQ7du1NrQ

— CBS News (@CBSNews) October 20, 2016