A former employee of Donald Trump's is suing one of Trump's companies for anti-gay discrimination, harassment and assault.
Eleazar Andres, who worked for Trump National Golf Course in New Jersey, says that he was harassed and physically attacked by coworkers after he came out in 2014.
Andres says his coworkers repeatedly called him "maricón," "faggot," "fag," and, even more distressingly, that his supervisor witnessed this and did nothing to deter it. The harassment culminated when one of Andres' coworkers threw a rock at his head, sending him to the hospital.
According to Andres' lawsuit, Andres was fired after filing a police report of the incident.
Andres is now suing Trump National Golf Club under New Jersey's robust nondiscrimination law, alleging that he experienced sexual orientation harassment, a hostile work environment based on sexual orientation, discrimination based on sexual orientation, and unlawful retaliation. He is also suing for assault and battery. He argues that the club is liable "for the acts constituting hostile work environment" and "sexual orientation harassment" because it "failed to properly address" his complaints and "failed to implement any preventative or remedial measures to protect against unlawful harassment" and discrimination. Andres then lists a variety of training programs and policies recognized by the courts as effective tools for combatting discrimination.
Rather than implementing these policies, Andres argues, the club displayed "egregious" and "willful indifference" to his ceaseless homophobic harassment, an indifference that allowed the mistreatment to escalate dangerously. Instead of taking "proper corrective action," the club terminated Andres' employment "as a result of his complaints of workplace harassment and discrimination"—unlawful retaliation under New Jersey law. Andres also claims that the club is vicariously liable for the assault and battery he suffered at the hands of the club's employees.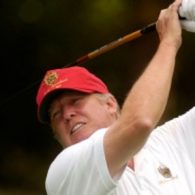 In defense of Trump National Golf Course, Trump's lawyers have claimed that Andres is to blame for being assaulted in the first place. They invoke something known as the "Doctrine of Unclean Hands." Mark Joseph Stern explains, "That means [Trump's lawyers are arguing that] Andres himself is 'guilty of inequitable conduct' and is 'a wrongdoer with respect' his own lawsuit—in other words, that Andres somehow fostered or provoked the discrimination against him, or committed some other serious wrongdoing."
Donald Trump is not personally implicated in the lawsuit. However, the suit paints a bleak picture of how both his management and his legal team view anti-gay assault.
Read a legal filing from the case, below.
Andres v. Pine Hill by Mark Stern on Scribd
[Photos via Trump National Golf Course]