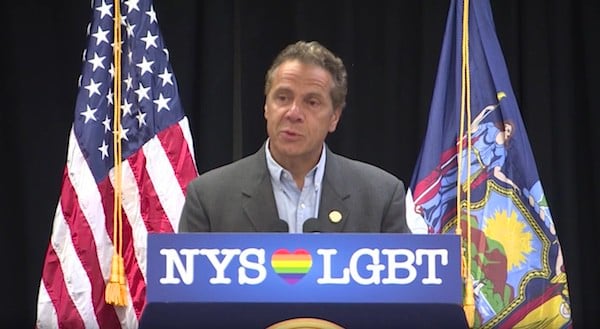 New York Governor Andrew Cuomo took to Facebook on Saturday with a message to LGBT people and other minorities: the state of New York will protect you.
Cuomo's message comes on the heels of Donald Trump's election as president, a surprise that almost immediately caused many people to fear for their safety.
Wrote Cuomo,
"…let me be absolutely clear: If anyone feels that they are under attack, I want them to know that the state of New York – the state that has the Statue of Liberty in its harbor – is their refuge.
"Whether you are gay or straight, Muslim or Christian, rich or poor, black or white or brown, we respect all people in the state of New York."
He added of the Empire State,
"We are a state of immigrants.
We are the state that raised the minimum wage to $15.
We are the state that passed Paid Family Leave.
We are the state that passed marriage equality.
We are New York, and we will stand up for you. And on that, I will never compromise.
Count on it."
Read his full statement, below.