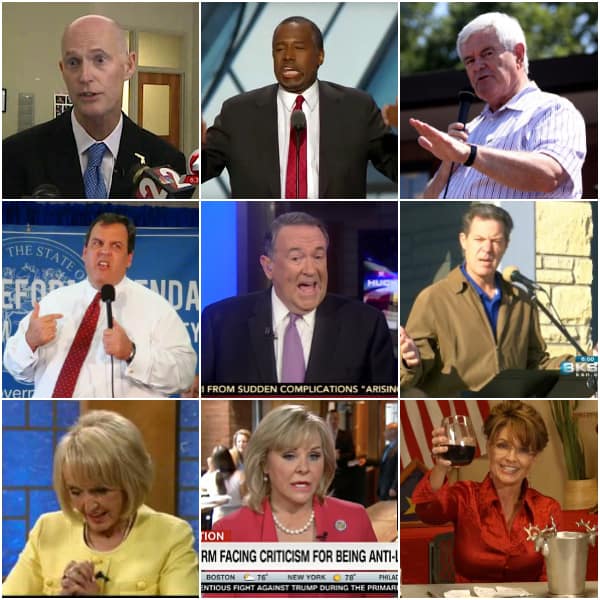 A list of Donald Trump's potential cabinet appointments leaked on Thursday.
The list reads like a veritable who's who of the right-wing anti-equality fringe. Prominent names include Chris Christie, Pam Bondi, Mike Huckabee, Ben Carson, Rick Scott, Mary Fallin, Sam Brownback, Jeff Sessions, Jan Brewer, Sarah Palin, and Newt Gingrich.
So far, the names being floated for a Donald Trump administration largely have one thing in common: They're men. And for the most part, they're white men. BuzzFeed obtained one list of 41 names under consideration for Cabinet and top White House positions. Of those, only six are women. In other news stories listing potential appointees, no women are named.
Many of them are also fringe figures ― people who have never been in government or who have been out of government for some time and are itching to get back in.
Trump did not have the support of much of the Republican establishment, and many of the officials who would traditionally get into an administration now may be hesitant to do so for a leader they distrust. Trump may also block them since they didn't support him. Meanwhile, some figures who have been lurking on the fringe may now have found a home with this unlikely president-elect.
And here's the list itself via BuzzFeed: 
List of Potential Trump Cabinet Nominees:
Attorney General:
Gov. Chris Christie
Attorney General Pam Bondi
Sen. Jeff Sessions
Former Mayor Rudy Giuliani
Secretary of Commerce:
Christie
Former Nucor CEO Dan DiMicco
Businessman Lew Eisenberg
Former Gov. Mike Huckabee
Sen. David Perdue
Former Sen. Jim Talent
Agriculture Secretary:
Gov. Sam Brownback
National Council of Farmer Cooperatives CEO Chuck Conner
Gov. Dave Heineman
Texas Agricultural Commissioner Sid Miller
Former Georgia Gov. Sonny Perdue
Secretary of Education:
Ben Carson
Hoover Institution fellow William Evers
Secretary of Energy:
Venture Capitalist Robert Grady
Businessman Harold Hamm
Secretary of Health and Human Services:
Former New Jersey state Sen. Rich Bagger
Ben Carson
Newt Gingrich
Gov. Rick Scott
Secretary of Homeland Security:
Christie
Sheriff David Clarke
Secretary of the Interior:
Gov. Jan Brewer
Gov. Mary Fallin
Grady
Hamm
Oil Executive Forrest Lucas
Rep. Cynthia Lummis
Former Gov. Sarah Palin
Secretary of Defense:
Former Gen. Mike Flynn
Stephen Hadley
Rep. Duncan Hunter Jr.
Sessions
Former Sen. Jim Talent
Secretary of State:
John Bolton
Sen. Bob Corker
Gingrich
Treasury Secretary:
Rep. Jeb Hensarling
Businessman Carl Icahn
Banker Steven Mnuchin
Chief of Staff:
Reince Priebus
Director of Office of Management and Budget:
Sessions
Secretary of Labor:
EEOC Commissioner Victoria Lipnic
Veterans Affairs:
Rep. Jeff Miller
White House Counsel:
Donald McGahn