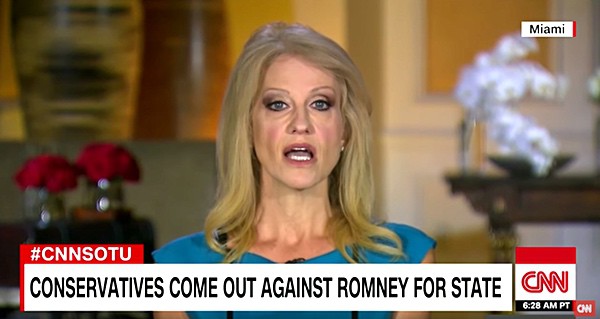 Donald Trump is reportedly "furious" at Kellyanne Conway for going rogue on Sunday on a number of Sunday talk shows and trashing Secretary of State contender Mitt Romney.
The NY Post on Sunday's shows:
Conway appeared on a series of morning talk shows to blast Romney over his intense past criticism of her boss, saying he was "nothing but awful" and questioning whether he even voted for Trump.
"There was the 'Never Trump' movement and then there was Governor Mitt Romney," Conway told ABC's "This Week." "He went out of his way to hurt Donald Trump."
On CNN' s "State of the Union," Conway said Trump supporters "felt betrayed" that Romney was under consideration, and she attacked his credentials, wondering if he'd "been around the globe doing something on behalf of the United States of which we're unaware."
Conway also told NBC's "Meet the Press" that she was "just astonished at the breadth, the breathtaking volume and intensity of blow-back that I see," citing social-media outrage and "particularly in private communications."
Watch: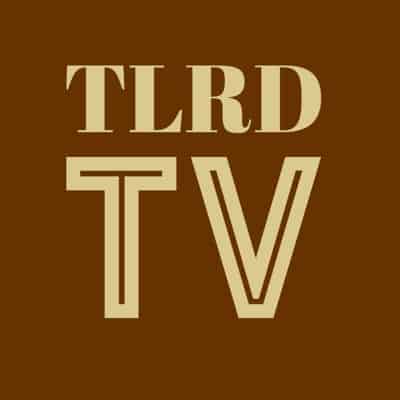 I did tell him privately. And I'll respect his decision. Point is the volume & intensity of grassroots resistance to Romney is breathtaking https://t.co/bknmfGZ13a

— Kellyanne Conway (@KellyannePolls) November 27, 2016
Morning Joe reported this morning that Trump is pissed at Conway.
Said Mika Brzezinski:
"Two sources at the top of the Trump transition team confirm for MSNBC that they spoke to the president-elect today and that Donald Trump was 'furious' at Kellyanne Conway's comments on Sunday suggesting Trump betrayed his supporters by even considering Mitt Romney for a position in his cabinet. Kellyanne went rogue at Donald Trump's expense at the worst possible time,' a source familiar with Trump's thinking said. Trump's top aide said they were 'baffled' by Conway's comments and suggested that it feeds into a growing concern inside the campaign that 'instead of driving Donald Trump's message she's pushing her own agenda."
Watch:
BREAKING – Sources: Trump 'furious' over Conway comments about Romney https://t.co/Sd4kogEPGz

— Morning Joe (@Morning_Joe) November 28, 2016
Conway later texted Joe Scarborough to respond to MSNBC's reports:
https://www.youtube.com/watch?v=ZcYtkWCS5oY
Said Scarborough:
"We have a response from Kellyanne Conway who says the reporting this morning, it is sexist. She says she can have any job she wants and is thinking about taking a role inside and outside of the campaign. I'm not sure how that reporting is sexist because those were sources at the top of the campaign. Is she suggesting that the people that she's working with, the three people at the top of the Trump transition campaign, are sexist? Because that's where all the sourcing comes from, the people closest to Donald Trump."