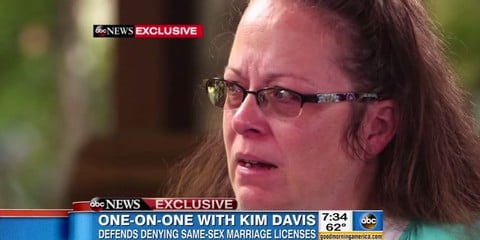 Kim Davis is trying to get out of paying over $230,000 in legal fees to the couples who challenged her defiance of the Supreme Court's ruling on gay marriage.
Davis' lawyers say she shouldn't have to pay because the issue was settled by the Kentucky legislature when it did as Davis asked and removed county clerks' names from state marriage licenses. However, lawyers for the plaintiff couples say that doesn't change the fact that Davis violated the law, compelling them to sue. Furthermore, the controversial legislative workaround was reached as a result of the suit and the high-profile attention brought to the case.
Attorneys for the couples who sued Rowan County Clerk Kim Davis asked U.S. District Judge David Bunning to award them $233,058 in legal fees and costs. But the Lexington Herald-Leader reports Davis' lawyers urged Bunning in a response filed Monday to deny the request.
Roger K. Gannam of Liberty Counsel, the religious advocacy organization that has represented Davis, wrote that the the case was resolved in the legislature and the couples aren't entitled to legal fees.
Jeffrey C. Mando, an attorney for Rowan County, said in a separate response that county government shouldn't be forced to pay anything.
More from The Lexington Herald-Leader: 
…the altered marriage licenses don't change the fact that Davis refused to do her duty last summer, and she forced the couples to sue in order to claim their civil right to marriage, lawyers for the couples say.
"Courts recognize that when successful civil rights plaintiffs obtain a direct benefit from a court-ordered victory, such as in this case, they can be entitled to their legal expenses to deter future civil rights violations by government officials," William Sharp, legal director of the Kentucky ACLU and one of the lawyers for the couples, said in a prepared statement.