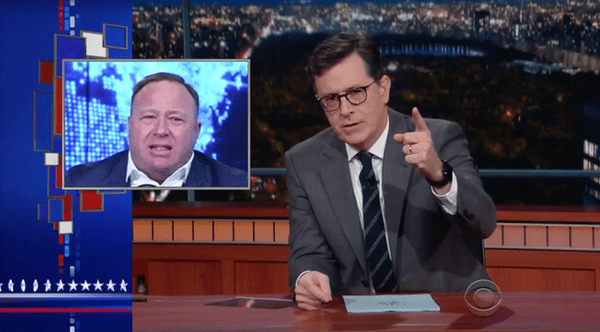 Stephen Colbert took on the scourge of fake news infecting our country on The Late Show on Wednesday night.
Colbert issues a blistering rebuke of conspiracy theorists who buy into crazy, made-up scandals generated in the alt-right incubator.
Touching on Pizzagate, Colbert said, "According to some folks on Reddit, I'm in on Pizzagate. Because at the end of my election night special, I talked about pizza which they called all-caps 'CREEPY.' This is insane."
According to others, including conspiracy theorist Alex Jones, Colbert is on the Clinton payroll and taking cues from politicians as to what to put on his show.
Colbert explains the problem with that logic, however, as RawStory points out:
"Here's what these conspiracy theorists don't get: there's a difference between a conspiracy and an agreement," Colbert said, holding up transcripts from the conversation he had with Donald Trump's team prior to the president-elect's own appearance on Late Night. "A conspiracy is what villains do. An agreement is what adults do."
He added, "Look around the country, wouldn't you agree we need more adults? So Wikileaks, Alex Jones, and these subreddit sub-geniuses, and I mean this in the nicest way possible: Grow the f**k up."
Watch, below.
https://www.youtube.com/watch?v=RHcP9ATTiX8