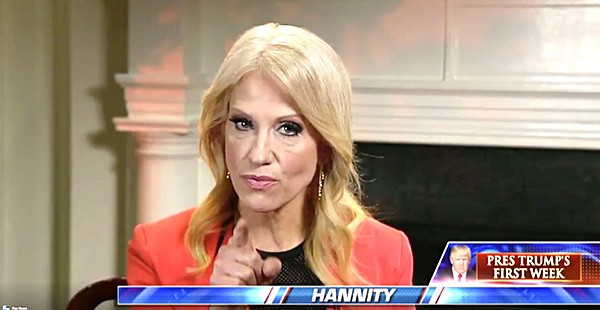 Speaking with Sean Hannity on FOX News last night, Kellyanne Conway lashed out at the press, blaming them for death threats she has received.
Said Conway:
"Because of what the press is doing now to me, I have Secret Service protection. We have packages delivered to my house with white substances. That is a shame and yes I hold them to account for it."
Conway was discussing an erroneous report from a Time magazine reporter in the press pool that a bust of Martin Luther King Jr. had been removed from the Oval Office.
.@KellyannePolls says false report about Martin Luther King Jr. bust shows "presumptive negativity" from media. #Hannity pic.twitter.com/Q8uZ57UzKn

— Fox News (@FoxNews) January 24, 2017
"The damage is done," Conway continued, "because then people think of Donald Trump as the R word."
Because why would they have that thought otherwise?
https://twitter.com/DrDavidDuke/status/822489438479650816
USA 'a great melting -pot'
Trump Cabinet:
• 22 White men
• 1 Black man
• 5 women (3 White/2 Asian) #Inauguration https://t.co/ZLyCKtEXtK

— Ashok Ahir (@ashokahir) January 19, 2017