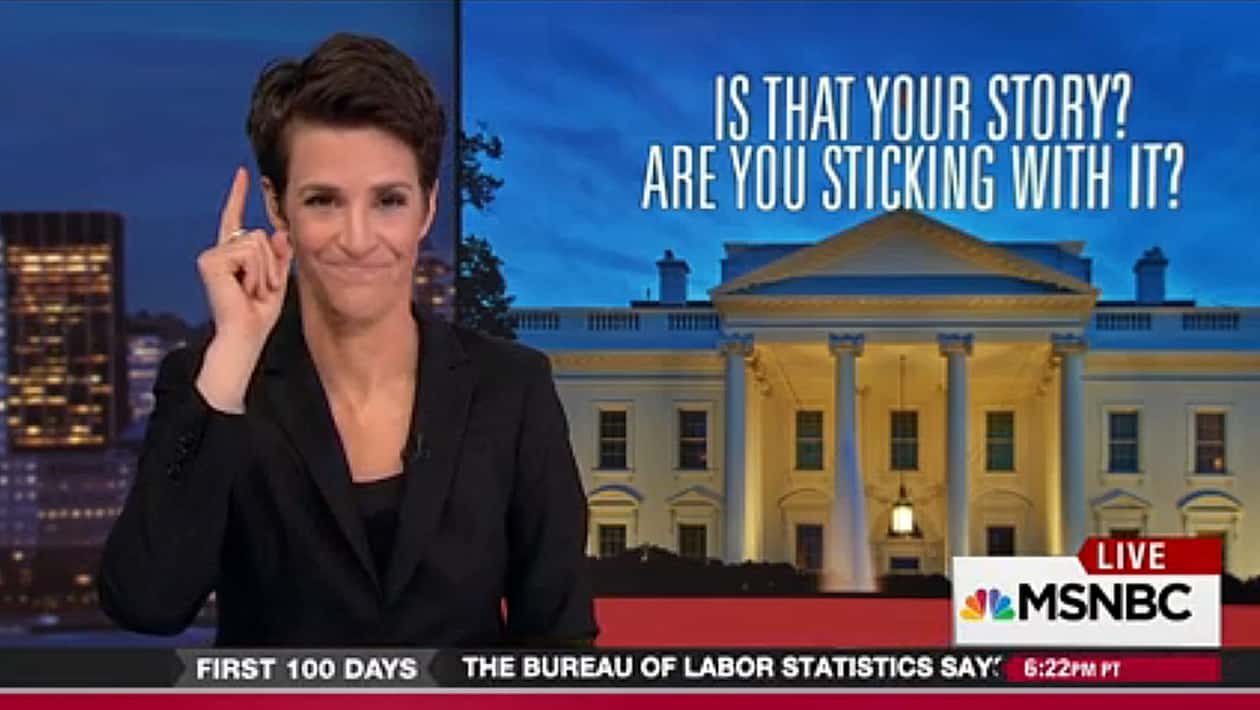 Rachel Maddow continued blazing a through line into the unknowns about the obvious cover-up that is going on in the Trump administration with regard to Russia.
Last night's brilliant A-block concerned Mike Pence and the facts surrounding Michael Flynn's firing that don't hold up under scrutiny, particularly given the information breaking last night about Flynn working for the Turkish government's interests as an advisor to the Trump campaign.
Maddow started by returning to the timeline surrounding Flynn's firing that still does not make sense.
Said Maddow:
"We now know that Mike Flynn did discuss sanctions with the Russian government even though Mike Pence said he didn't. There are two possible ways to explain that. One is that VP Mike Pence was knowingly lying…he knew what Flynn had actually done but he lied about it on TV. That's one possibility. That's a very dark possibility. The other possibility is that Mike Pence thought he was telling the truth…but because Mike Flynn fed him a BS story, Mike Pence innocently relayed that BS story to the American people as if it was true even though he wasn't in on the real facts of the matter. That latter story is what the White House decided to go with."
What has never made sense here, Maddow noted, is what happened after Sally Yates visited the White House and told them that Mike Flynn did discuss sanctions when he talked to the Russians.
"What happened next, after she told them that, was nothing."
The problem, she added, is that they found out about Flynn's lie to Mike Pence three weeks before Flynn was fired.
"It didn't bother them, apparently, until it hit the news…It has never made sense that the reason he had to go was because he lied to Mike Pence."
So why did they stick with Michael Flynn for that time? It's a question that has not yet been answered.
And now the news has emerged that Mike Flynn was being paid to represent Turkey's interests during the Trump campaign, and while Donald Trump claims not to have known about it, the Trump transition team did know. And who led that team? Mike Pence.
Maddow then played an interview Pence recently did with Bret Baier at FOX News in which Pence denies knowing anything about Flynn's involvement with Turkey.
Said Pence to Baier: "Let me say – hearing that story today was the first I heard of it."
Said Maddow:
"That cannot be true. It is impossible this is the first Mike Pence has heard of it. Mike Pence was the head of the [Trump] transition, while all of those news stories of Mike Flynn being on the Turkish government's payroll were breaking. He was the head of the transition when Mike Flynn was being vetted for the National Security Advisor job. He was the head of the transition when Congress formally notified the head of the transition that Mike Flynn appears to be on a foreign government's payroll. He was the head of the transition when Mike Flynn's personal lawyers came and told the transition that Mike Flynn maybe needed to register as a foreign agent."
"Why is [Mike Pence] repeatedly volunteering an implausible answer" when asked about Flynn's involvement with the Turkish government," Maddow asked. "On this one, the White House makes no sense. We can see the freakout happening. We do not yet know why they are freaking out."
But if it's investigations that the Trump administration is freaking out about, that explains why 46 US attorneys were abruptly fired last night.
Watch: