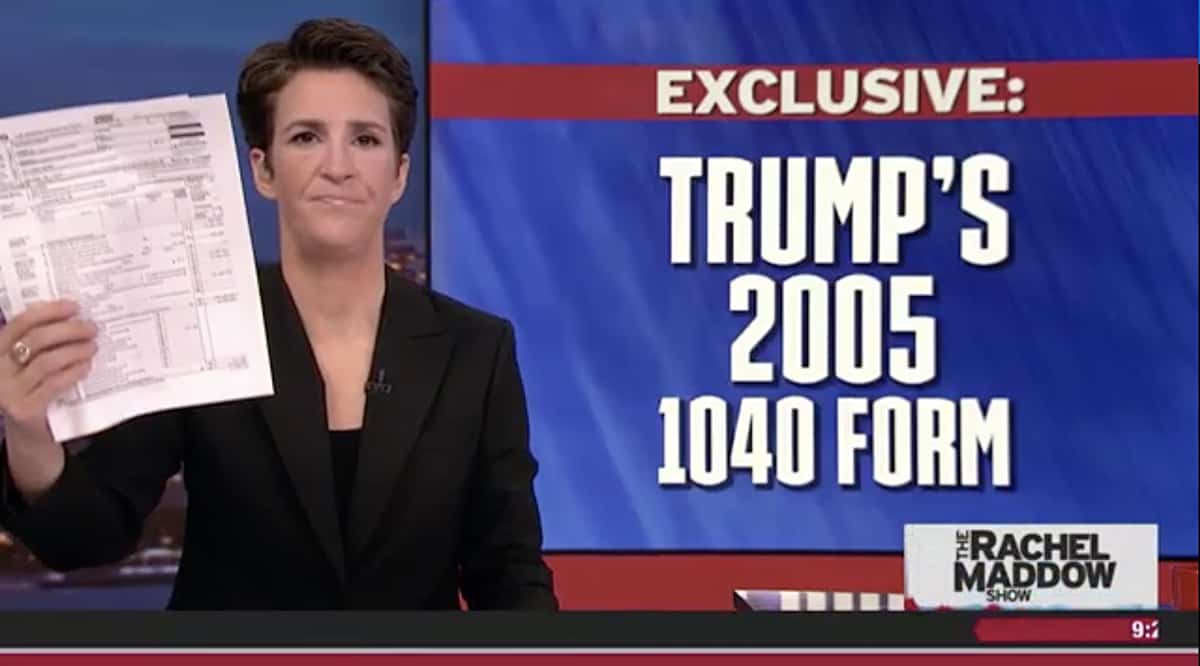 Rachel Maddow won the hype contest on Tuesday, informing the public at 7:30 pm that she had a piece of big news: Trump tax returns.
BREAKING: We've got Trump tax returns. Tonight, 9pm ET. MSNBC.

(Seriously).

— Rachel Maddow MSNBC (@maddow) March 14, 2017
It turned out that what Maddow possessed was two pages of a 1040 form from 2005 that didn't reveal so much about the source of Donald Trump's income, but it did elicit a response from the White House, and, as Maddow noted, could be the beginning of more leaks of this nature.
The returns showed that Trump paid approximately $38 million in taxes with a writedown of $103 million. He made more than $150 million in 2005.
The documents were obtained through the mail from an anonymous source by journalist David Cay Johnston.
Johnston suggested that it could have been Trump himself who leaked the tax return.
Watch:
Here is a PDF of the return.
Read the full response from the White House:
.@WhiteHouse statement on Maddow show @realDonaldTrump tax return via @ewstephe pic.twitter.com/nP8Z0o94p6

— David Shepardson (@davidshepardson) March 15, 2017
Chris Hayes joined Johnston and Maddow for a third segment.