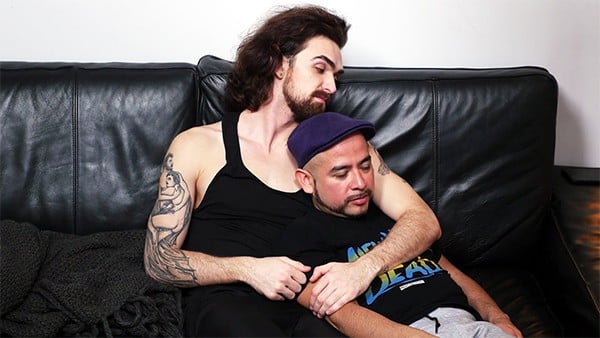 A recent video featuring queer-identified professional cuddler Christopher Ammon takes a look at the world of cuddling service Cuddlist.
Ammon calls the service, established in 2016, "the most accessible, reliable source of connection" and is enthusiastic about his work:
"A year ago I both came out of the closet and left the Mormon Church while appearing on MTV's 'The Real World," Ammon told The Huffington Post. "I lost my family, my community… everything. It was devastating."
He says that a friend introduced him to Cuddlist and paid for his cuddling training, which includes an in-person or online orientation training course and attending at least one Cuddle Party workshop, and subsequently, his life has changed.
"I now consider my clients to be some of my dearest friends," he said. "Learning about their lives, their heartaches, their dreams… it helps me to better understand my own."
According to a press release sent to HuffPost, Cuddlist's mission is to "address touch deprivation in a safe, professional environment" by using "touch and non-sexual intimacy." Sessions cost $80 an hour and the company has 80 professional cuddlers working in major cities across the United States. A clear set of guidelines provided by Cuddlist to clients makes sure "the cuddle session remains comfortable for both people."
While the notion—and the name itself—of cuddling can seem lighthearted, the service's benefits are billed as quite serious. Its proprietors view it a bulwark against depression and social isolation. Ammon frames it as a tool against the struggles that members of his community can often face:
"I want to be a part of the fight against LGBTQIA suicide," he said. "What this does is that it actively fights against loneliness."