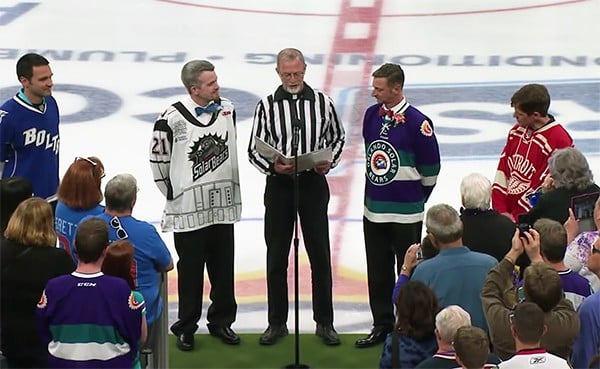 For Eric Pinder and Dwayne Smoot, saying "I do" while wearing hockey jerseys in an ice rink as a man dressed as a referee officiated over their wedding was the right way to go. The wedding cake was, of course, in the shape of a Zamboni, and a goal horn went off as the grooms kissed at the end.
The couple tied the knot this past November at the Orlando Amway Center, home of the ECHL's Solar Bears. The team supported the ceremony, helping to set it up prior to one of their games, and recently provided their video of the nuptials to the pair, Outsports reports:
When saying their vows to each other, Pinder and Smoot were asked by the priest, Gordon Barcalow, if they "promise to love and cherish [each other] through power plays and penalty kills, until the final horn of life sounds."
Pinder and Smoot have been together for 16 years. Lifelong hockey fans, they each cheer for the Tampa Bay Lightning as their main team. Pinder noted he was originally a Red Wings fan, and related how the distinctive wedding came about:
"We met at a party and I was wearing a Red Wings Jersey. Dwayne knew the team and player so I was impressed. Plus, he is very cute. So hockey was really our first conversation.
"When we were looking to get married, we thought that doing it before a game would be a great choice — we could get people to go see our local team, the Orlando Solar Bears. I called our ticket rep and asked if we could get married before a game. He said, 'Hold on,' then three minutes later got back on the phone and said, 'Sure, we can do that for you.'
"We had 30 people in a suite after and around 50 who bought tickets and sat in the section next to us. The Amway Arena was great. They let people rotate in and out of the suite so everyone could see our Zamboni cake. The priest is a friend of ours (also gay) who was thrilled to officiate.
"We also had hockey themed gift bags — a puck with our wedding logo, unopened packs of trading cards from the 1990s and M&Ms with our team colors. We are both wearing Solar Bears jerseys, but Dwayne had a game-worn one from "Star Wars" night."
The wedding offered a sorely needed heartwarming note to a city marred by anti-gay violence earlier in the year, and that a hockey league was behind the gesture is an extra nice touch. (Last year the NHL Commissioner made clear his view that an openly gay player would be embraced by the sport.) Best wishes to Eric and Dwayne!