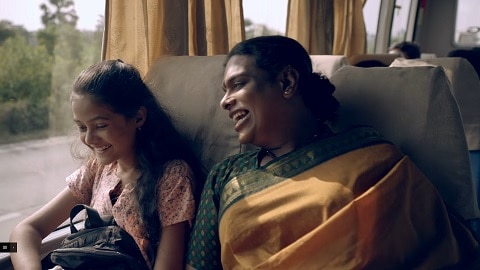 A new ad for Procter & Gamble brand Vicks tells the story of an orphaned girl who is adopted by a transgender woman.
Aimed predominantly at the Indian market, the Publicis Singapore ad which aims to "redefine family care for contemporary India," is narrated by the orphaned girl who tells the story of how she came to be adopted by her mother, Gauri.
Creativity reports:
She describes how her mother, Gauri, loved and cared for her, how she pushes her academically to become a doctor and how they love to spend time together eating their favorite food and watching horror movies.
However, at the end of the spot, which is beautifully directed by Neeraj Ghaywan, as we finally see the mother, it's revealed that Gauri is in fact transgender. Gayatri also reveals that she wants to be a lawyer, not a doctor, as she feels that her mother is denied "basic human rights."
The spot is part of a campaign centered around the tagline "Touch of Care," aimed at reasserting the importance of family care while challenging and seeking to redefine what family is in contemporary society.
In a statement, Nitin Darbari, chairman and CEO, P&G Teva JV China, marketing director Asia, Middle East and Africa, said:
"Vicks has always been about the gentle touch of a mother's care, as she caresses and gives relief to her child. With the #TouchOfCare campaign we are going a step further and expounding the importance of care beyond just the traditional perception of family. The campaign shows how people who, though not connected by blood, end up being family through care itself."
Watch the ad below.