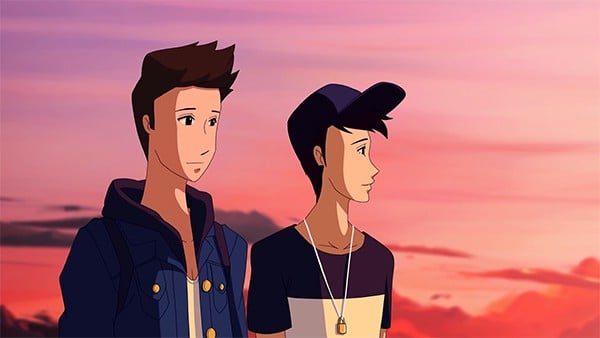 Without benefit of spoken dialogue, Arrival is a 2D-animated short film by Alex Myung that tells a vivid and poignant tale of a young man's close relationship with his mother and his struggle to reconcile it with his newly-embraced gay identity as he starts a life in the big city. The two have always had a special bond communicated through the instant Polaroids they snap together and for each other, and one that he takes of himself and his first boyfriend proves to be the most difficult one to share with her.
The film is now available in its entirety online with help from crowdfunding:
In the world of Animation, LGBTQ representation is rare. 'Arrival: A Short Film by Alex Myung' is a classically animated film which uses stunning visuals to fill that space. Told though the eyes of a young gay man and his relationship with his mother, the film depicts Queer culture and the difficulties one faces when contemplating 'coming out.'
Director and Animator Alex Myung set out to make a short animated film that reflected his life and experience as a gay man in NYC. Over the course of production it became clear how lacking this theme is in modern animated film. The characters in the film, while faced with a problem that is centric to those of the LGBT community, speaks to those who question any part of their identity and are afraid to confront it.
The film was Kickstarter funded, animated by hand onto paper frame by frame and digitally inked and colored. The completely original score was recorded live with an Orchestra in Nashville, TN.
Watch Arrival: